The Vietnam Fertilizer Association forecast demand for fertilizer will decline 20 percent from previous crops to 3.1 million tons for the 2009 winter-spring crop.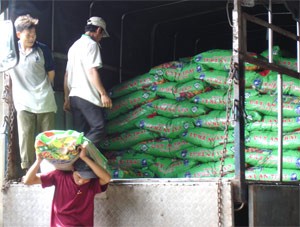 Demand for fertilizer is forecast to decline for the 2009 winter-spring crop (Photo: H.Y.)
The association attributed the decreasing demand to the sharp drop in prices farmers are receiving for their harvests and the resulting shaky financial situation farmers have found themselves in.

Fertilizer traders and producers have also incurred heavy losses so they are unwilling to sell fertilizer to farmers on credit.

The association said about one million tons of urea, diamonium phosphate (DAP), sulphate ammonia (SA) and kali fertilizers were currently in stock, enough to meet 50 percent of local demand.

But the sudden decline in demand means already-indebted fertilizer traders are unlikely to restock, raising the possibility of a fertilizer shortage in the future.

In order to balance supply and demand, the Agriculture and Rural Development Ministry has proposed the government make it easier for fertilizer companies to get loans with reasonable interest rates and also allow the companies to reschedule their tax payments.