Dearth of pangasius, shrimps in the Mekong Delta provinces have caused prices to skyrocket and much despair for business enterprises.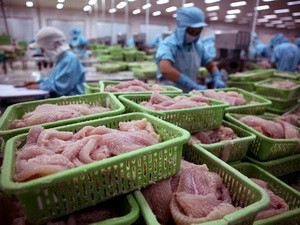 Pangasius processed at a factory (File Photo: Vietnamplus)
Enterprises in the Mekong delta provinces of An Giang, Dong Thap and Can Tho have been willing to purchase the fish at VND27,000 (nearly US$1.3) to VND28,000 per kilogram, but farmers are unable to meet the demand as they don't have sufficient stock.
The An Giang Fisheries Association admitted a serious shortage of pangasius in the region as many fish breeders had discontinued breeding the species, faced with lack of capital.
Mai Dang Hoa, general director of the Saigon-Mekong Fishery Company, said even though the company had paid in advance to farmers no fish was still available.
While domestic Vietnamese enterprises had hiked their prices drastically, there was also a slight increase in export prices as well. Currently, export prices to the European market range from US$3.1-$3.2 a kilogram and to the US from $3.5-$3.6 a kilogram. Exporters barely made any profits.
Consumer demand is expected to rise during the Christmas and New Year holiday season and hopefully export prices will go up too. Nonetheless, a shortage will still remain.
In related news, the price of shrimps in the Mekong Delta has skyrocketed. 20 tiger shrimps were selling for VND250,000 per kilogram, 30 tiger shrimps for VND200,000 per kilogram and 60 king prawns for VND80,000 a kilogram.
While processing factories in the Mekong delta province of Ca Mau, Bac Lieu, Soc Trang complained of shrimp shortage, many farmers in the Mekong delta province of Ben Tre were in despairs as their stock of white legged king prawns had died.