The People's Committee in the central highland province of Dak Lak on Thursday held a meeting to discuss ways to protect the brand rights of Buon Ma Thuot coffee brand.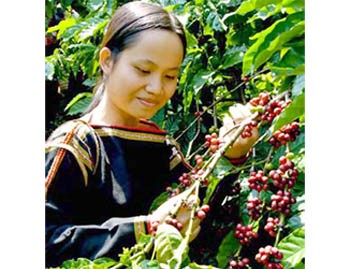 A woman harvesting coffee beans in Krong Ana District in Dak Lak Province (Photo: T.T)
Officials present at the meeting all agreed that the best way to resolve the issue would be to sue the Chinese company that had gained patent rights, and demand that it cancel its rights over the Vietnamese coffee brand.

Guangzhou Buon Ma Thuot Coffee Company in Guangdong Province of China has patented two Vietnamese brands. The "Buon Ma Thuot và chữ Hán" (Buon Ma Thuot in Han-Chinese script) brand, for the period November 14, 2010 to November 13, 2020 and the "Buon Ma Thuot Coffee-1986" for the period June 14, 2011 to June 13, 2021.
The People's Committee of Dak Lak Province has authorized Buon Ma Thuot Coffee Association to deal with the issue, choosing the Hanoi based Pham and Associates Law Firm to begin proceedings against the Chinese company to terminate their patent rights of the Buon Ma Thuot coffee brand.
Vu Khanh Toan, head of Pham and Associates Law Firm, said they are gathering more information to consolidate a strong legal case. Within a week, they will direct their law office in Beijing to write a letter to the Guangzhou Buon Ma Thuot Coffee Company asking cancellation of their patent rights to the said coffee brand.
If the Guangzhou Buon Ma Thuot Coffee Company demands less than US$8,000 for cancellation of patent rights, Toan said he would agree to pay the amount. However, if the Chinese Company demands more than $8,000, then they will take legal action and file proceedings.
The Buon Ma Thuot coffee brand was granted a National Protection Certificate in 2005 by the National Office of Intellectual Property in Vietnam, however it failed to register the brand in other countries.
Related article:
Vietnam may lose Buon Ma Thuot coffee brand