Pham Hung Chien, deputy director of the Department of Health in the central city of Da Nang on September 20 warned of the appearance of the 'Aedes albopictus' or Asian tiger mosquito that is capable of spreading the dangerous dengue fever virus.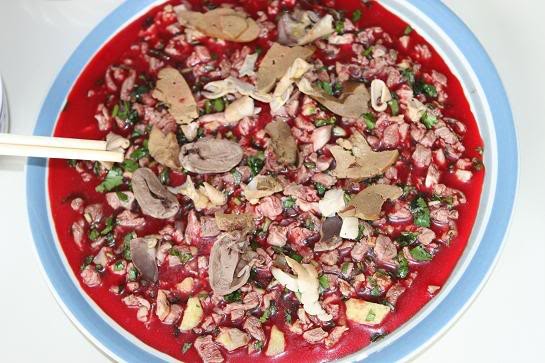 Duck's blood pudding
The deadly mosquito bites people, pets and wild animals. This species can survive all year round in tropical and subtropical climates. The female mosquito lays eggs in stagnant water lying around in containers or further away from homes, in tree holes and bamboo internodes. Larvae can also be found in natural habitats such as tree holes, rock holes, hollow bamboo stumps, and leaf axils.
Mr. Chien said that living hygiene in rented houses for workers and students is alarming. The rainy season is highly conducive for hatching of mosquito eggs and hence spread of dengue fever.
So far, Da Nang has reported 97 dengue fever patients and seven outbreaks in communities.
In related news, the Tropical Disease Hospital in Ho Chi Minh City said recently that many people have been hospitalized after eating pork from an unknown source. Now they are experiencing symptoms of vomiting, headache and high fever after eating unsafe pork or blood pudding- - a traditional dish made from raw duck blood and duck meat.