Vietnamese people lined up in front of gold shops in Hanoi and Ho Chi Minh City since early Saturday to buy gold on the God of Wealth Day, the tenth day of the lunar New Year, hoping for good fortune all year.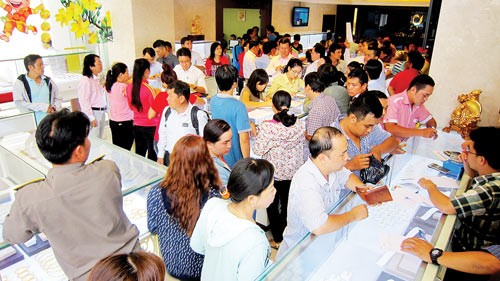 People buy gold on the God of Wealth Day, the tenth day of the lunar New Year, at a SJC shop in District 1, HCMC on February 28 (Photo: SGGP)
Tens of customers waited outside many gold shops although they were not opened in Ho Chi Minh City in early morning.
Most of them bought small gold bullions of one tenth of a tael, two tenths and five tenths. Of them the former was most purchased at the price of VND3.39 million (US$159).
Saigon Jewelry Company (SJC) permitted each customer to buy only 1-2 tenths of a tael but fell behind demand.
Nguyen Minh Phuc from District 5 said that he had waited for an hour and was permitted to buy only two bullions at an SJC shop in Nguyen Thi Minh Khai Street instead of wanting to buy five bars for his five children.
The company representative said that in previous years, customers usually purchased gold rings but rushed to buy gold bullion this year. SJC was forced to restrict the purchase volume per person to prevent speculation.
Similarly, customers were found long queue outside DOJI gold shop in Cach Mang Thang Tam Street, District 3. A staff there said that they had sold nearly 2,000 taels three hours after the shop was opened, triple to quadruple over normal.
Phu Nhuan Jewelry Company said that as of 10 a.m. their shops had sold 15,000 gold products, it was expected to hit 50,000 by the end of the God of Wealth Day.
Fortune seekers also streamed to small shops across the city causing traffic jam in some places.
In Hanoi, streets with many gold shops such as Tran Nhan Tong, Phan Dinh Phung, Ha Trung and Cau Giay became very crowded.
Since early Saturday, Tran Nhan Tong had seen traffic congestion because of long queues of gold buyers in front of shops.
SJC gold in the capital city was purchased at VND35.45 million and sold at VND35.72 million a tael on the day.
Surging demand on the God of Wealth Day made SJC prices continuously increased on Saturday. However it reduced in closing trades, when a tael was purchased at VND35.40 million and sold for VND35.65 million, down VND60,000 and VND40,000 over the previous day.
The world gold price went up US$4 per ounce at the weekend to reach US$1,213, equivalent to VND31.5 million per tael, which was nearly 4.2 million lower than domestic gold prices.