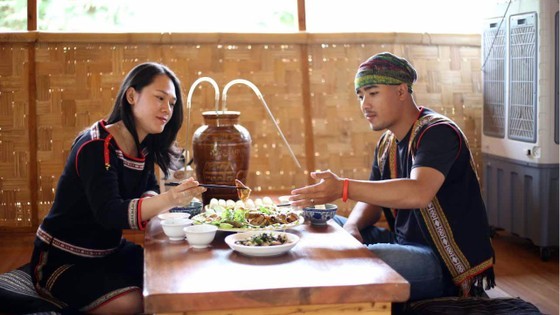 Tourists can wear special costumes of ethnic minority people and enjoy local dishes
Community-based tourism (CBT) refers to tourism experiences hosted and managed by local communities that generate direct economic benefits and are sustainable and responsible. It is considered an activity that not only attracts tourists but also helps in preserving the traditional culture of the Central Highlands.
Kon Tum Province currently has many famous tourist villages such as Kon Pring Community tourism cultural village in Mang Den Town of Kon Plong District, Kon Ko Tu tourist village in Dak Ro Wa Commune of Kon Tum City, Kon Brap Du community tourism in Tan Lap commune of Kon Ray District, Kon Trang Long Loi community tourism village in Dak Ha District. These tourist villages still retain their indigenous cultural characteristics which in turn attract appropriate tourists.
CBT not only builds deep connections between local hosts and those who come to stay with them and discover their lives, it also champions the conservation of both the environment and local cultures, inspiring more social responsibility on the part of visitors and helping to maintain local livelihoods.
Kon Ko Tu community tourism village in Dak Ro Wa Commune is nestled on the legendary Dak Bla river, about 5km from Kon Tum City. Holiday-makers can learn about traditional cultural festivals, carved wooden statues, and weaved brocades as well as ride a canoe on the Dak Bla River, visiting village architecture, communal houses, chapels, and gongs cultural exchanges. Moreover, tourists can buy brocade weaving and brocade-related fashion items such as bags, dresses, and scarves.
Mr. Dao Van Hau, Chairman of the People's Committee of Dak Ro Wa Commune, said that the commune administrators identify community-based tourism development as a key economic sector and a key task of the locality.
In the past time, when the community tourism village of Kon Ko Tu was established, lots of sightseers flocked to the village; thus, it improved local residents' income. Thanks to this revenue, inhabitants are able to buy equipment for homestay business. Furthermore, the community tourism village has contributed to preserving the traditional cultural values of the locality such as gongs, brocade weaving, and cooking ge wine.
In Dak Lak Province, many villages have also developed community-based tourism over the years. Typically, Ako Dhong village, located in the center of Buon Ma Thuot City has been considered the richest Ede ethnic minority in the province thanks to the development of community-based tourism. Dozens of houses in Ako Dhong village still retain the traditional architecture along the road.
Many years ago, local villagers knew how to take advantage of the traditional cultural space of the nation to develop community cultural tourism. Specifically, many families have taken advantage of the traditional stilt house to make cafes and homestays. Brocade weaving, winemaking and handicrafts of village inhabitants also bring high economic profits by serving tourists.
Last but not least, in recent years, a group of young people Lak District in Dak Lak Province have also linked to developing community-based tourism. 30-year-old Y Lam Dang Bing in Lak District is the originator of this model. In 2019, Y Lam embarked on the construction of the Pai R'lam house, recreating the living space, festival activities and cuisine of the M'Nong people to serve tourists.
In Pai R'lam house, the eye-catching daily life artifacts of the M'Nong people such as crossbows, rafters, baskets, and brocade blankets are used to decorate the house making visitors feel interested. Moreover, Y Lam also cooks dishes such as minced meat with vegetables, volcanic bamboo shoot soup, grilled chicken, and lam rice of the M'Nong people to serve tourists. At night, he makes campfires and beats gongs to introduce the M'Nong ethnic minority's festivals to visitors.
Lak district secretary Vo Ngoc Tuyen said that more than 60 percent of the district are ethnic minorities, and half of them are M'Nong people. The last Party Congress' resolution also mentioned developing tourism and preserving national culture. The development of community cultural tourism is one of the local directions to promote socio-economic development and preserve national culture.
Hence, local authorities have encouraged young generations like Mr. Y Lam Dang Bing to develop community cultural tourism, because only indigenous people fully understand their culture and can do it in the best way. Local government will facilitate them to do community-based tourism.