Tea and coffee are two key export products of the Central Highlands contributing to improve the life of thousands of local households. However their export markets have been unstable because of unsustainable development ways.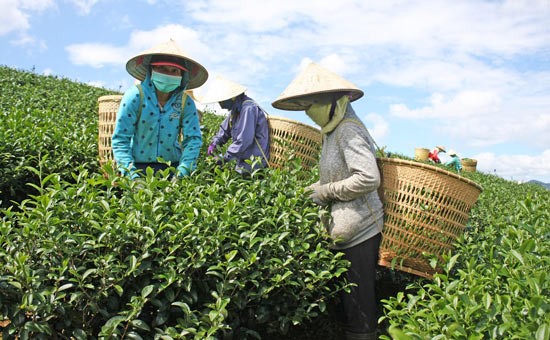 Workers pick tea leaves in Lam Dong province (Photo: SGGP)
Insufficient reports show that the volume of tea products in stock of businesses in Lam Dong province neared 5,000 tons in October.
Tra Phu Toan Company in Bao Loc city has been forced to fire half of 100 workers and stop purchasing as its inventory level has topped 50 tons.
Some farmers have brought their high quality Oolong tea to purchase spots and accepted the price as low as VND20,000 a kilogram, down VND5,000-7,000 a kilogram over before.
According to Taiwanese Trade Union's Branch in Lam Dong province, they are amid the most difficulty phase after 16 years since they started investment in Vietnam.
On November 11, the Vietnam Tea Association hosted a meeting in Hanoi to find short and long term solutions for the tea industry.
Association deputy chairman Doan Trong Phuong said that in the short term, the market needs many Oolong tea products to make Tet presents.
In the long term, he advised businesses to intensify advertisement and reduce price to exploit local market. Besides traditional markets such as Russia, the Middle East and Taiwanese market, they should improve to meet standards of other markets such as the EU and U.S.
Meantime, coffee bean price has reduced to VND34,000 a kilogram this crop 2015-2016, down VND8,000 compared to the highest price in the last crop.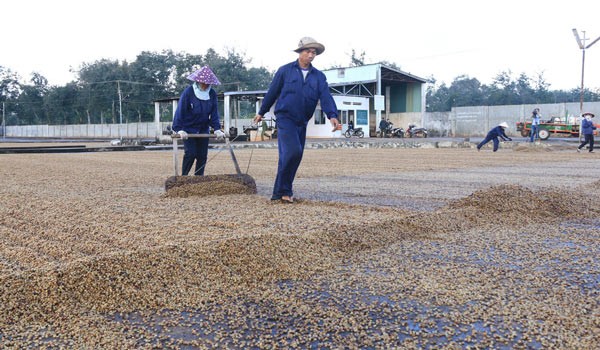 Farmers dry coffee beans in Dak Lak province (Photo: SGGP)
Many farm owners have managed to solve high inventory while seeking fund to hire coffee bean pickers.
Deputy Director of the Dak Lak Department of Industry and Trade Huynh Ngoc Duong said that coffee prices strongly reduced from late March to the end of the 2014-2015 crop, causing famers limit selling to wait for price increase and businesses short of goods for exports.
Besides this, economic recession, severe weather and irrigation shortage has also resulted in the province's export reduction in both output and turnover, he added.
Reports by the province People's Committee show that it exported 177,097 tons of coffee in the 2014-2015 crop, down 22.4 percent over the previous crop. Turnover fell 28 percent to US$364 million.
Gia Lai province exported only 65,000 tons of coffee as of July this year, down 64 percent, while the export value also dropped 66 percent.