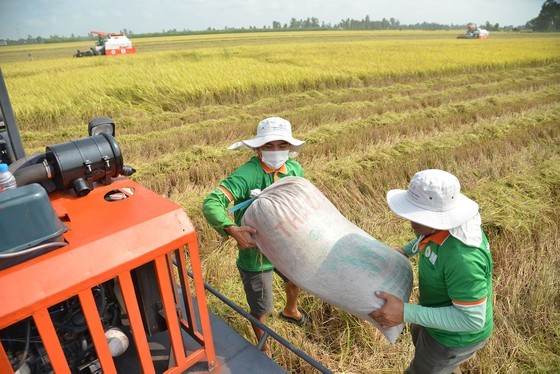 Farmers in the Mekong Delta are harvesting their winter-spring rice crop

Nguyen Thanh Hung, Director of Thuan Tien Cooperative (sited in Gao Giong Commune of Cao Lanh District in Dong Thap Province) informed that the prices of OM 18 rice and OM5451 rice are both at VND7,000 (US$0.3) per kilo, a rise of VND1,200 compared to the last crop.
With a total rice field area of 960ha, the Cooperative had an output of 624 tonnes of rice this crop, all of which were pre-bought by partner businesses in the province. This model has proved its effectiveness when businesses first provide farmers with high-yield rice seeds having a clear origin at reasonable prices, and farmers do not have to pay for them until the end of the crop.
The Ministry of Agriculture and Rural Development has asked all localities in the Mekong Delta to grow the winter-spring rice crop this year in places where fresh water is still available for at least 3 months. Farmers there are advised to sow seeds wisely to avoid the salinity period at the end of the crop.
In response, the Mekong Delta has already sow rice seeds on a surface of 1.5 million hectares, with an estimated yield of 10.7 million tonnes. Currently, high-quality fragrant rice varieties occupy about 80 percent of the production area in this region.
The good news is many rice export businesses and farmers have applied the above model, creating such a positive influence on the latter group since the offered price is normally VND200 (0.009) per kilo higher than market price.
In addition, after Tet holiday, rice export prices from Vietnam see an increase by around $10 per tonne compared to December 2022. Also, many rice exporters like Loc Troi Group JSC., Trung An Hi-tech Agriculture JSC. successfully sold 450,000 tonnes to EU, Malaysia, Singapore.
The Vietnam Food Association commented that in 2023, rice export activities of the country will witness many breakthroughs when major rice import markets such as EU, the Middle East, China, and the Philippines resume their connections.
As to the fruit market in the Mekong Delta, durian, jackfruit, dragon fruit, and pineapple are currently sold at high prices, making farmers truly exciting.
At present, the surface area of orchards in Tien Giang Province is over 82,000ha, mostly in the districts of Cai Be, Tan Phuoc, Cho Gao, Cai Lay, and Cai Lay Town. Its famous fruits are durian, pineapple, dragon fruit, jackfruit.
About 12,000ha of durian trees is fill with ripe fruits although this is not its season thanks to the province's ability to modify the trees. According to wholesaler Tran Vinh Thanh, durian can be sold quickly to China at a truly profitable price of VND130,000-190,000 ($5.5-8.1) per kilo.
Other fruits like jackfruit, dragon fruit also enjoy high prices of VND35,000 ($1.5) per kilo, a rise of VND10,000 ($0.43) compared to the time before Tet holiday because of scarcity at the beginning of the fruit season.
In Hau Giang Province, the price of pineapple is VND7,000 ($0.3) per kilo, bringing about high profits to farmers.
Fruit exporters in Vietnam explained that such lucrative fruit prices are because the Chinese market resume its import activities in the Lunar New Year period after a long time fighting the Covid-19 pandemic. Also, since farmers plant their crops in a scattering manner, the output is not harvested at a large amount at the same time, and thus can apply a higher price than normal.