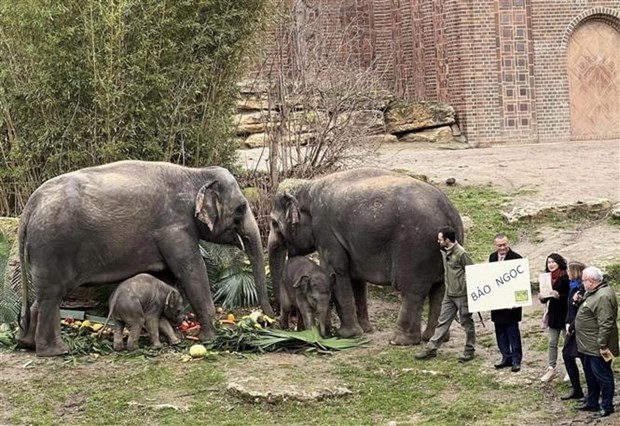 Vietnamese Ambassador to Germany Vu Quang Minh holds a board saying the name of the new born elephant at Germany's Leipzig Zoo. (Photo: VNA)

A ceremony to name the newborn elephant was held on February 2 with the name "Bao Ngoc" (valuable gem) was chosen.
Vietnamese Ambassador to Germany Vu Quang Minh said that the baby elephant is an icon of the Vietnam-Germany friendship.
Elephant Voi Nam was born in 2002, marking a big event for the Leipzig Zoo as the zoo's elephant herb had a new member after 66 years.
Voi Nam and female elephants which are all from Asian countries last year gave births to two elephants and are expected to welcome two others in the next few weeks.
Thomas Guenther, director in charge of Asian species at the zoo, said that the protection of species, especially the conservation of endangered species, is an important task.
In some tropical countries, forest elephants have been listed in the red book, and are also one of the most endangered wildlife species in the world.
The mating of elephants of Vietnamese origin with those from countries with the same ecosystem is both a measure to maintain the breed and ensure good upbringing.
He said that the rearing of Vietnamese elephants in particular and elephants from Asian countries in general is not too difficult because they have better adaptation ability, higher endurance, and are easier to tame than African elephants.
Especially, Asian elephants which have thick skin can adapt to living in cold environments because their body temperature is generally high and they tolerate cold well.
The Leipzig Zoo is the second largest zoo in Europe, built in the 19th century, with a total area of 26.3 hectares. It is now home to nearly 600 species of animals coming from all continents of the world.
In addition to developing and conserving rare animals, the zoo is also implementing projects to help Cuc Phuong and Cat Ba national parks in Vietnam take care of, maintain and conserve rare animals.