The 5th Khmer Culture, Sports and Tourism Festival will be held in An Giang Province from December 1-4.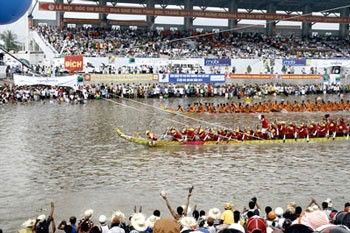 Ngo Boat Race is one of the most exciting activities in the festival of Khmer people. (Photo: Sggp)
The Festival will include music performances, traditional costume shows, traditional rituals of the Khmer ethnic people, a sports competition, exhibition of books, display of various cultures of ethnic minorities in the country, and photographs of ethnic minority groups from the mountainous regions.
There will be seminars on Science, Integration and Development; the preservation of historical and cultural sites; introduction of cuisine culture of the Southern region and Cambodia.
The festival has a special political significance and is an opportunity to honor and highlight the culture of the Khmer ethnic group and strengthen solidarity and exchange amongst the Khmer community.