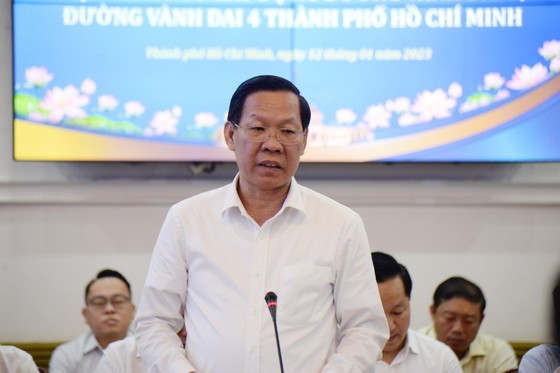 Chairman of the municipal People's Committee Phan Van Mai
With this year's theme 'Improving the efficiency of public service activities, accelerating administrative reform and improving the investment environment, promoting economic development, and ensuring social security', administrative reform will be focused on with the participation of the entire machinery of state.
Admitting that staff in the sector are tardy in handling files in the land field, Director of the Ho Chi Minh City Department of Natural Resources and Environment Nguyen Toan Thang said that the sector in fact handles more than 42,000 housing applications every month on average or more than 502,000 records in the year. Thus, although the rate of delayed documents is only 2.7 percent, up to 14,000 cases have still not been solved for residents.
In addition, the department has also applied mapping software for receiving files, handling and connecting with other sectors for solving them, thereby, it has been saving people's travel backwards and forwards. In 2023, the sector will also strengthen the inspection and timely handling of lazy officials and civil servants.
According to the Director of the Department of Natural Resources and Environment of Ho Chi Minh City, a large number of officials and civil servants are working at grassroots units, so it is necessary to strengthen inspection and supervision to deter them from doing wrongdoings. With 49 projects still having problems related to land use, the Department of Natural Resources and Environment is working with other departments, agencies, and districts to review to remove and continue implementing these projects.
Regarding this issue, Chairman of Thu Duc City People's Committee Hoang Tung said that last year, Thu Duc City handled more than one million administrative records in various fields. However, he admitted that the settlement of administrative procedures in the field of land was still slow. Roughly 94 percent of files have been solved while the city strived to solve 96 percent of files.
According to Mr. Hoang Tung, to address this delay, in 2023, Thu Duc City will continue to review and rearrange staff as well as improve working processes.
Last year, Thu Duc City cooperated with the city Department of Natural Resources and Environment to announce the land information portal.
In connecting tax agencies, the Land Registration Office, the State Treasury, Thu Duc City thereby can completely handle files related to the HCMC Land Registration Office on the Internet. Thu Duc City will strive to provide all public services online, instead of only 82 percent at present.
Ho Chi Minh City administrators are determined to make a breakthrough in infrastructure this year as this is one of the city's biggest bottlenecks. According to Director of HCMC Department of Transport Tran Quang Lam, out of 29 key projects, the southern metropolis is focusing on a number of key strategic projects including three ring roads 2, 3, 4, highways Ho Chi Minh City - Moc Bai, Ho Chi Minh City - Chon Thanh - Thu Dau Mot, Ben Luc - Long Thanh and major roads and bridges such as Thu Thiem 4, Can Gio Bridge and gateway intersections.
Local governments are going to start construction of these projects or submit an investment policy in 2023. Amongst them, the ring road 3 project is considered a model in project preparation and is expected to start construction in June. At the end of last year, local authorities started construction of several projects in time such as the An Phu intersection, the national highway 50 expansion project, and Tran Quoc Hoan road connecting the T3 terminal at Tan Son Nhat Airport.
In order to carry out key works and projects and invest in development, Ho Chi Minh City needs to mobilize a huge resource. Chairman of the municipal People's Committee Phan Van Mai requested to review the mechanism to mobilize investment resources with the aim to achieve a total investment of 35 percent.
In the first quarter of 2023, the Department of Planning and Investment was assigned to complete the proposal to raise the ceiling for public investment and criteria for attracting FDI, projects to mobilize social investment in addition to a policy to promote remittances.
At the same time, relevant departments and agencies must complete the plan to arrange the equitization of state-owned enterprises, public asset management, land use projects along the metro lines, along the ring road 3 or social, educational, medical, cultural and sports projects.
According to the year's theme, improvement of the investment environment is one of the key tasks in 2023. Director of Ho Chi Minh City Department of Planning and Investment Le Thi Huynh Mai said that the department has been focusing on immediately removing obstacles for large-scale investment projects. At the same time, it is promoting and supporting investment in important infrastructure investment projects for regional connectivity such as Can Gio transshipment port.
Along with that, the department is reviewing land funds and focusing on dealing with legal problems, planning, infrastructure connection, site clearance and resettlement for attracting investment. Investment promotion activities will be renewed, with a selective investment calling list, not too wide, and the city will accompany investors until the project is successful.
In 2023, the Ho Chi Minh City Department of Labor, Invalids and Social Affairs determined to continue developing social security and protection networks. In particular, in terms of employment, the labor sector will focus on consulting and mobilizing unskilled workers to participate in vocational training to be recruited into enterprises.
Moreover, the department will adopt solutions for job creation. Unemployed workers will receive job training, counseling and introduction so that they can quickly take part in the labor market, especially those who lose their jobs or stop working, in order to well fulfill the annual target of creating jobs for 300,000 laborers. It strives for the urban unemployment rate below 4 percent.