Automobile sales in Vietnam is likely to hit the highest ever record this year of 230,000 as over 215,500 ones had been sold in the first 11 months averaging nearly 20,000 a month.
The latest record was made in 2009 when automobile sales reached 180,000 ones.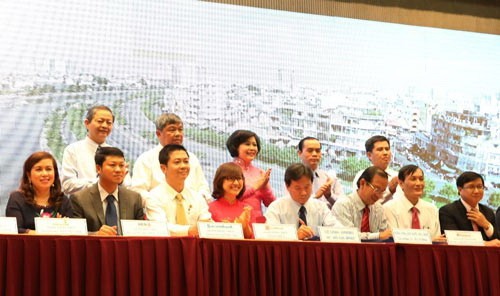 Car buyers at an outlet in HCMC on December 12 (Photo: SGGP)
The Vietnam Automobile Manufacturers Association on December 19 reported that 29,706 automobiles of various types had been consumed in November, up 33 percent against the previous month and 86 percent over the same period last year. It is the highest ever monthly sales.
Sales of locally assembled cars reduced 7.6 percent to 17,129 while completely built up (CBU) cars increased 95 percent to hit 12,577.
For the last 11 months, the former still held major part with 184,787 ones having been sold, up 50 percent. The later hit 30,730 cars, up 78 percent over the same period last year.
Of these, tourist automobiles moved up 45 percent to near126,600, commercial type hiked 73 percent to 78,000 and specialized ones was up 109 percent to top 11,000.
The highly increase sales has been attributed to the next year effective new special consumption tax and yearend shopping demand ahead of Tet holidays which have heated up the market.
Mr. Le Van Tuan, who is in charge of Mazda outlet in Tan Binh district, said they sell 6-7 cars a day, double over the previous month.
Mr. Hung and his wife who were found buying a car at Siu Hung outlet in Cong Hoa street, said that through the media, they knew that car import price would reduce about 10 percent next year but special consumption tax would increase 15-30 percent excluding many types of fees. Therefore they decided to buy one immediately to serve their business and return to their hometown in the upcoming Tet holidays.
Mr. Hoang Van Tai in charge of trading department of Toyota Dong Saigon company in Phan Van Tri street, said that car buying demand has been increasing because banks have provided many programs to assist car buyers with the stable interest rate of 7-8 percent a year.
Automakers have provided many promotional programs such as discounts and free maintenance service to lure customers in the yearend business season, added Mr. Ngo Thanh Tri from Western Ford Saigon company in Binh Tan district.
According to calculations by automobile importers, government decree 108 will increase special consumption tax by 10 percent or more from early next year.
Normally it takes 3-5 months to import some types of automobiles to Vietnam, they said. If the Government does not postpone the decree's implementation, they might suffer loss as many customers' orders have delivery time up to mid next year.
Mr. Dirk ADelmann, sales manager of Mercedes-Benz Vietnam, forecast that the new tax calculation will gloom the market next year and expressed worries about continuous changes in tax policies, which have raised difficulties for them in catching up with these changes and adjusting business plans.
Eight genuine automotive importers and distributors, representatives of 10 automobile brands in Vietnam, have proposed in writing the Prime Minister and ministries to delay the effective date of the new decree until July 1 instead of January 1.