The Ministry of Health along with the Health and Life Newspaper announced the launch of a writing contest on medical workers themed "Silent sacrifice" in Hanoi on October 26.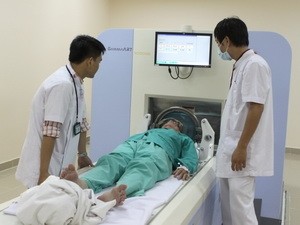 Ministry of Health along with Health and Life Newspaper has launched a writing contest on achievements of medics and nurse (Photo: Vietnamplus)
Health Minister Nguyen Thi Kim Tien, head of the organizing body of the competition, said at the launch ceremony that this contest aims to honor the achievements of the health sector, especially the unsung and silent sacrifices of nurses and doctors who constantly struggled to fight diseases and epidemics to protect the health and lives of people.
All Vietnamese above 15 years of age, living in or outside Vietnam are eligible to take part in the contest.
The contestants must choose to write about real life characters and factual incidents, giving the characters real residential and work addresses and listing all achievements made by them from 1986 to date.
Entries must be forwarded to the organizers no later than October 26, 2012.
On the same day, another competition themed "Bac Lieu-15 years of Renovation and Development" was launched by the Press Association in the Mekong delta province of Bac Lieu.
Nguyen Minh Chanh, chairman of the Press Association in Bac Lieu Province, said the competition is open for amateur writers in the country.
All entries should not exceed 2,500 words, and are being published in the media from September 1 to December 10, 2011.
The contents of the entries should reflect the achievements, reconstruction and development works in the province in the field of industrialization and modernization during the last 15 recent years.
Entries can also be based on outstanding persons who have achieved breakthroughs in field like labor and manufacturing or typical role models who were able to mobilize resources, investment and ground breaking research.
Entries can be sent via email to: hoinhabaovntbl@gmail.com no later than December 10, 2011.