2015 is considered as an important transitional year of Vietname's business environment when ASEAN Economic Community (AEC) will be established. It is expected to bring many opportunities but also many challenges especially when the competitiveness of local businesses has improved very slowly. .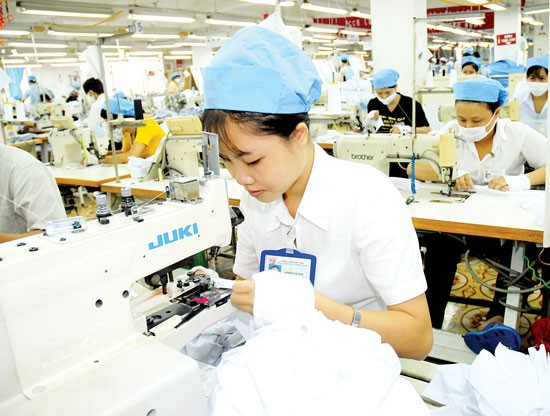 Viet Tien Garment Company makes export shirts (Photo: SGGP)
Nearly eight years experiencing the global economic crisis and inherent difficulties in Vietnam's economy, the number of Vietnamese businesses have kept increasing. However over 90 percent of them are of small and medium scales. Several of these are of very small scale and weak competitiveness.
Chairman of the Vietnam Chamber of Commerce and Industry (VCCI) Vu Tien Loc expressed concern over the competitiveness of Vietnamese businesses at a seminar hosted by the Ministry of Foreign Affairs, VCCI and the World Economic Forum (WEF) in November.
A WEF report shows that Vietnam's competitiveness index increases two notches from 70 to 68 out of 148 economies in the 2014-1015 period. Another report by World Bank ranks Vietnam 78th out of 189 nations in 2014.
Mr. Loc said that Vietnam's economic institution is ranked 92th in the world and ninth out of ten nations in ASEAN region, just before Myanmar. The country's creativeness is listed 87th in the world, education and training quality is at the 96th position. Especially, Vietnam is ranked 99th in the readiness for new technology application.
Deputy Minister of Foreign Affairs Bui Thanh Son said that Vietnam's competitiveness has been improved very slow and is named lower than many countries in the Asian region.
Vietnam has seen trade deficit with ASEAN nations. In 2013, the country's export value to ASEAN reached US$18.4 billion while import value hit US$21.35 billion. Fifty percent of Vietnam's export turnover was from the US, EU and Japan, it was only 22 percent from ASEAN.
According to statistics, the country has nearly 600,000 businesses with a total capital of VND6,000 trillion. Nearly 97 percent of them have less than 300 workers and VND10 billion in capital. About 51.3 percent have below 10 workers.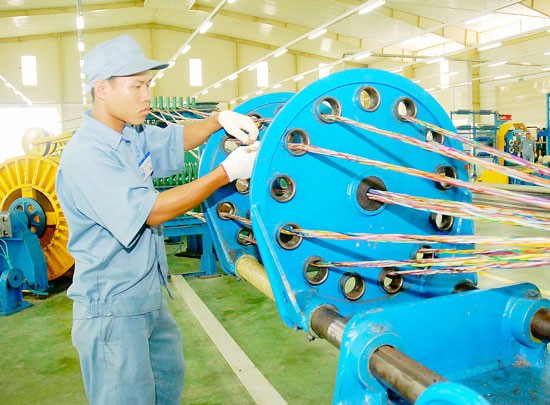 Many small and medium enterprises have weak competitiveness (Photo: SGGP)
The number of small and medium enterprises in Ho Chi Minh City and Hanoi accounts for nearly 45 percent of the total number in Vietnam.
In a report on Vietnamese businesses' competitiveness, the Ministry of Planning and Investment's said that the number of businesses has quickly developed however the competitiveness has not been improved considerably.
Most of them are of small scale, with limited market share, low potentials in science and technology. They have mainly done outsourcing and depended on input material import.
Capital and technology limitations have prevented small and medium enterprises from attending in large projects. Beside, they have also faced with unclear business environment with many complicated tax procedures, the ministry reported.

Many experts said they felt worry because there has no official study about businesses' consideration and awareness of integration as well as the number of businesses who can take advantage of tax incentives from AEC to boost exports.