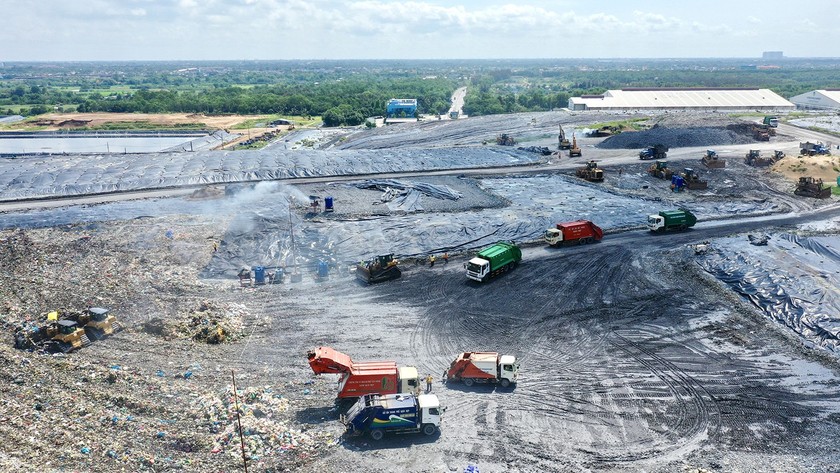 Da Phuoc Waste Treatment Complex in HCMC (Photo: SGGP)
Assoc. Prof. Dr Le Thi Kim Oanh – Dean of the Environment and Biotechnology Faculty in Van Lang University – stated that to minimize foul odors and sewage leaking in current waste treatment sites, besides obeying operation regulations, it is now necessary to invest in proper equipment for landfill covering, sewage and exhaust fumes collection systems to prevent water and air pollution, frequent spraying of microbial products to avoid unpleasant smell from spreading.
However, in the long term, there must be comprehensive planning on waste treatment tasks, considering wind directions, location, and environment impacts. More importantly, localities must understand the characteristics of their own area to choose the most suitable waste treatment technologies (incineration, compost creation, recycling). This will save costs while satisfying the local demands in this field. Also, the management task must be improved to better monitor the operation and avoid possible incidents.
Prof. Le Huy Ba from the HCMC Association for Conservation of Nature and Environment mentioned the need to sort waste at source. He said that the current spreading of foul smells and leaking of sewage at landfills is because of unfitting planning, unclear environment impact evaluation, unsuccessful selection of appropriate treatment measures to fit the real situation of localities.
Urban and even national trash has not been classified at source. When waste collection units pour all kinds into one landfill, some of them decompose and create disgusting odors. Therefore, to address this problem, spraying microbial products and better covering the garbage are a must. Waste burial has to be done properly: digging deep pits, putting geotextile layer, pouring waste inside and compressing it, covering it with soil and lime.
In the long term, it is advisable to plant trees in order to separate the landfill area from residential ones or to invest in incineration technologies after careful consideration. Simultaneously, sorting garbage at source should be promoted for better waste handling (recycling, burning, burying). Such effective classification helps to save land for burial purposes while recycling trash for other goals.
Prof. Dr. Dang Kim Chi – Vice Chairwoman of the Vietnam Association for Conservation of Nature and Environment stressed on the elimination of burying waste in the future. To erase any inadequacies in landfills, it is essential to synchronously carry out the chosen measures, ranging from garbage classification, collection, to treatment. If possible, waste should be handled right when it enters the treatment area, and open-air or unsanitary burial models should not be used.
She insisted on the disadvantages of garbage burial methods since there is no effective way to completely remove toxic gas in this process, not to mention land waste and potential risks of ground and water pollution. As to trash burning, many localities in Vietnam are still using outdated technologies that are unable to make good use of the released heat from this process, which in turn might worsen air pollution.
Incineration technologies are advanced ones that are chosen by several countries, including Vietnam. Nevertheless, this measure only suits localities with a large volume of garbage and an ability to handle heat effectively. Therefore, each region in Vietnam should consider the feasibility of this method in its area before applying that into real life.