A Vietnamese contestant, Vu Thi Hoang Diep pocketed an early prize, Miss Talent, at Miss International Beauty, it was announced on July 17.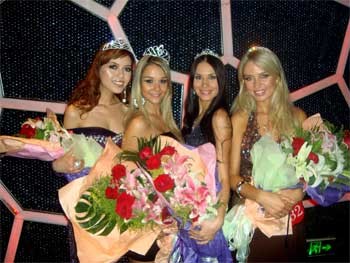 Diep (L) posing with other contestants after receiving her prize. (Photo: Courtesy of P.L)
Miss Talent is one of the secondary prizes offered by organizers before the main prizes are awarded on the final August 1.

After nearly two weeks of participating in the pageant's events, Diep still remains in the top three of the online voting on www.missinterbeauty.com

Currently, Diep and other contestants have been in training for preparations for the final.

Talking with SGGP, Diep said she was surprised with the result but thought it would be a good encouragement for her to keep doing her best at the contest.

"All the contestants are really nice to me and we all receive good treatment from the organizers during the contest," Diep added.

Miss International Beauty Pageant, founded in 1973, aims to symbolize beauty and harmony for different nationalities, bring about friendship across the world and to promote world peace.
Miss International Beauty Pageant 2009 has attracted 43 contestants from around the world. The final night will take place in Urumqi, China.

Despite reports of recent unrest in and around Urumqi, organizers have insisted the pageant will go ahead.

Related articles:
Vietnamese in top three of international beauty pageant
Vietnamese model ready for Int'l beauty pageant