Vietnamese model Truong Nam Thanh was adjudged 3rd runner-up at the Manhunt International 2011 contest held in Seoul in Korea from September 28 to October 11.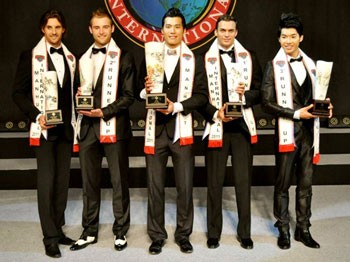 Model Truong Nam Thanh (R) at the award ceremony (Photo: File)
The 20-year-old model was also awarded the title "Internet Mr. Popularity". Thanh is the first Vietnamese male model to be ranked among the top five finalists and to be adjudged third runner-up at the international contest.
Thanh is a student at the Ho Chi Minh City College of Stage and Cinema. He earlier won the "Best Body" title at the 'Vietnam Super Model Contest 2010' and the Gold Prize at the 'Model Star Contest 2011'.
He has also played roles in some feature films and TV serials that will be screened by the end of this year.
Earlier, Vietnamese model Ngo Tien Doan won the Mister International 2008 contest and also the title of "Best Body" at the 'Manhunt International Contest 2007'. Model Nguyen Van Thinh was adjudged first runner-up by popular internet voting, at the 'Manhunt International Contest 2008'.
26-year old Chen Jian Feng from China was declared the winner of Manhunt International 2011.
Nelson Sterling from the Dominican Republic was declared 1st runner-up while the 2nd and 4th runners up were Gianni Sennesael from Belgium and Martin Smahel from the Slovak Republic.
'Manhunt International' was launched in 1987 in Singapore and became an international event in 1993.


Related article:
Truong Nam Thanh to take part in 'Manhunt International Contest'