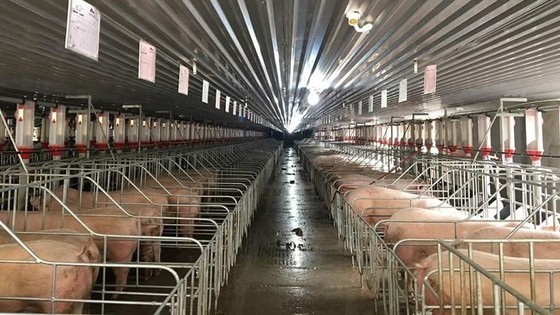 Vietnamese-made African swine fever vaccine meets immunological responses
The Ministry of Agriculture and Rural Development yesterday held a meeting in Hanoi to evaluate the results of testing more than 600,000 doses of the African swine fever vaccine researched and produced by AVAC Vietnam Company.
At the meeting, Mr. Nguyen Van Diep, Director of AVAC Vietnam Company, said that by the end of December 2022, this company had tested the vaccine on 1,800 pigs at 13 farms in different regions. Sampling results showed that 94.4 percent met immunological requirements.
Along with that, this vaccine research company has also coordinated with Thailand's C.P Vietnam Livestock Company to organize a trial injection of this vaccine at C.P's processing farms.
According to the representative of C.P Vietnam, Mr. Doan Anh Tuan, from the Center for Diagnostic Testing, the company first tested 650 pigs. The results showed that pigs had no side effects, and 14 days later, no virus was found on the animal whereas non-injected pigs showed that they had no antibodies. Pigs that were receiving the vaccine had 40 percent antibodies after 14 days and 90 percent after 28 days.
Under the permission of the Department of Animal Health, this company has conducted vaccination on 600,544 pigs at 545 processing farms for this company. After 4-5 weeks, C.P Vietnam took 5,958 samples in the North, the Central, and the South regions for testing, the results showed that 93.34 percent of the samples had an immunity response.
However, many experts believed that these two companies need to increase the sampling rate for more accurate assessments. At the same time, there is an additional assessment when vaccinating on a small scale, because most vaccinated pigs in the above-mentioned farms are raised in high bio-security, so the risk and complexity are less.
Mr. Nguyen Van Long, Director of the Department of Animal Health also suggested a closer assessment of the epidemiology, history of livestock production facilities, and risk of pathogens. He added to pay special attention when injecting the African swine fever vaccine with other vaccines.
Prior, in June 2022, the Ministry of Agriculture and Rural Development issued a commercial circulation license for the vaccine against African swine fever, researched and made by the Central Veterinary Medicine Company (Navetco). But in August 2022, pigs died en mass after receiving Navetco's vaccine, causing huge losses to farmers in some South Central provinces.
However, Deputy Minister of Agriculture and Rural Development Phung Duc Tien said at yesterday's meeting that with the progress of implementation and results of vaccination of AVAC Vietnam Company, the commercialization and use of the African swine fever vaccine will be announced nationwide in February 2023.
Deputy Minister Phung Duc Tien asked the Department of Animal Health to coordinate with vaccine manufacturers and livestock enterprises to use vaccines with instructions and recommendations closely with livestock farmers including dose, and interval when injecting different vaccines against diseases.
Deputy Minister Tien emphasized to special attention paid to vaccine quality monitoring. Although the vaccine after vaccination achieves 93.34 percent immunity, it must continue to be monitored, with emphasis on vaccination results on a small scale. The Department of Animal Health and production units must have more practical guidance for farmers.