French President François Hollande appraised Hanoi in preserving the Old Quarter during walking in the quarter yesterday.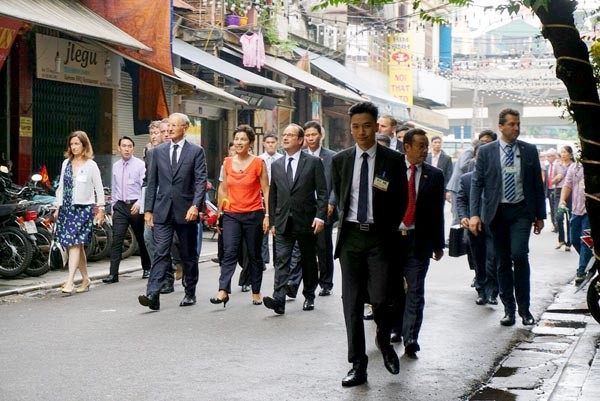 French President Francois Hollande walks along street in Hanoi's Old Quarter on Sep. 6th, 2016. (Photo : SGGP)
The president proposed Hanoi's authorities stepping up the conservation of the Old Quarter, stressing that the preservation works should continue for future generations.
When he was walking in the Old Quarter, he received a warm welcome from locals and tourists and he happily responded them, showing his friendliness to people.
Entering Kim Ngan temple, the president paid more attention to special features of the temple and locals' interest to the historic site. The temple is a place to worship forefather of handicraft and a place to hold local cultural and spiritual activities. Accordingly, locals were happy to move to another places for the upgrade of the temple in 2010.
Before, the president hailed Vietnamese alumni who returned Vietnam to contribute to the country's growth.

Hanoi's Old Quarter is located on ten wards of Hoan Kiếm district: Hang Bac, Hang Buom, Hang Bo, Hang Bong, Hang Ma, Cua Dong, Ly Thai To, Dong Xuan, Hang Gai, and Hang Dao.