Deputy Prime Minister Hoang Trung Hai said in Hanoi on Saturday that the government plans to adopt supportive policies to attract more investors in the agricultural sector.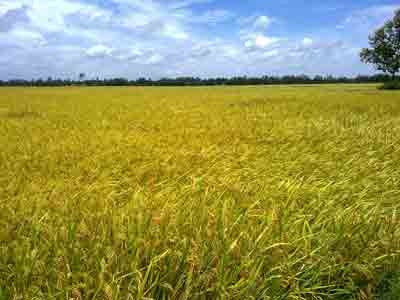 A paddy field in the Mekong Delta, the rice basket of Vietnam. The country wants to attract more investors in the agricultural sector (Photo: U. Phuong)
Hai was speaking at a meeting organized by the Ministry of Agriculture and Rural Development in Hanoi on Saturday to discuss policies to evolve the agriculture sector during the period 2012-2015.
He said more cooperation was needed from people to achieve targets set for 2012-2015, in particular between enterprises and farmers to promote production and sustainability.
Hai assessed that one of the most remarkable achievements during the last 5 years was the change in thinking amongst the staff, local government, enterprises and farmers. As a result, agricultural production has increased with better growth and turnover.
Cao Duc Phat, Minister of Agriculture and Rural Development, said although the agricultural sector faced many difficulties, the country yielded 41.5 million tons of rice in 2011, an increase of 1.5 million compared to last year. Vietnam can now guarantee food security within the country and meet its target for export of over 7 million tons of rice per year.
The target for next year is to maintain the export turnover in agro and aqua products to around 24 billion dollars and the export volume of rice to around 7 million tons.
However, the Ministry of Agriculture and Rural Development realizes that the agriculture sector is moving slow and hence is planning to reorganize the sector to become more sustainable within the next 5 years.
Representatives from the Ministry of Finance, the Ministry of Industry and Trade, and the Ministry of Natural Resources and Environment attended the meeting presided over by the Deputy Prime Minister.