The strict sanctions were included in the revised Law on Fisheries that was approved by the National Assembly on November 21, 2017, and was announced by President Tran Dai Quang on December 15.
Head of the section for legislation and inspection under the department of sea product Phan Thi Hue revealed the information at a conference on solutions for the European Commission (EC)'s 'yellow card' warning to Vietnam over IUU fishing.
The yellow card is a warning measure, given to nations considered at risk of being deemed uncooperative in the fight against IUU fishing.
Hue said the revised law also prescribes fines from VND50 million ($2,200) to VND70 million ($3,000) for illegal fishing and the revocation of fishing licences from three to six months.
She said it also regulated that all fishing boats from 15m long have to run tracking device systems 24 hours a day when at sea.
"The law also included detailed regulations based on principles of the UN Convention on the Law of the Sea 1982, Port State Measures Agreement by the UN Food and Agriculture Organisation (FAO), the Straddling Fish Stocks Agreement of the United Nations and the EC's recommendations," Hue said.
She said it also stated that the temporary import and re-export of illegal fishing materials and sea products via Vietnamese ports is illegal.
Nguyen Van Trung, from the department of sea product, said Prime Minister Nguyen Xuan Phuc also issued an instruction on Wednesday calling for urgent measures to tackle global IUU fishing following the EC's warning on October 23.
Trung said the PM's instruction also banned the building of new or upgrading old drift net boats and the transportation and trading of sea cucumbers in foreign waters.
Deputy General Secretary of Vietnam Association of Seafood Exporters and Producers (VASEP) Nguyen Hoai Nam said the association, in co-operation with Eurocham, has been developing a white paper in English and Vietnamese and a database on fisheries to promote Vietnam's efforts to improve its legal system in regards to IUU fishing.
"The EC needs clear information and actions to curb IUU fishing. More than 60 out of 100 businesses from VASEP have committed to fight IUU fishing, and these positive actions will be clearly and publicly showed to the EC," Nam said.
He added that human resources and funds are needed to support fishing port management boards in boosting supervision and monitoring fishing boats, captain and owners as well as preventing illegal fishing.
Nam also suggested that high-ranking dialogues between the ministry of Agriculture and Rural Development and EC should be held to remove the EC's 'yellow card'.
He said Vietnam also joined international organisations and agreements as recommended by EU, as well as negotiations with neighbouring countries on IUU fishing.
Speaking on the sidelines of the event, Deputy Minister of Agriculture and Rural Development, Vu Van Tam, said Việt Nam would focus on issuing legal frameworks, sea product recognition, tracking fishing boats and providing certificates of origin for sea product.
"New regulations also involve the responsibilities of boat owners and leaders of local administrations on IUU fishing violations. We will also improve management capacity of port management boards in inspection of sea product and cruise tracking detection," Tám said.
He said communications would be promoted among communities and fishermen on the risks of IUU fishing.
Vietnam received a 'yellow card' warning from EC because of its failure to meet standards against IUU fishing from October 23, 2017 to April 23 of 2018.
The country has been making efforts to have the yellow card withdrawn before the deadline.
The Government has approved an action plan to prevent, minimise and eliminate IUU fishing by 2025, with the plan set to be issued later this month.
According to VASEP, Vietnam's sea product export earned $8.3 billion, of which 20 percent were from the EU market, in 2017.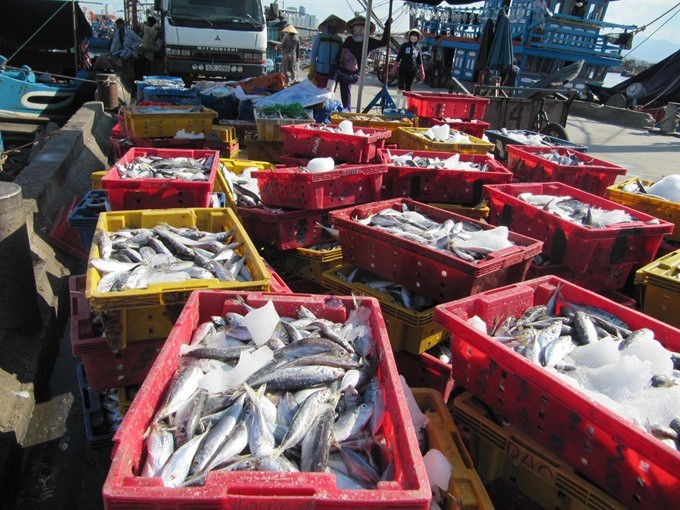 Fish unloaded at Da Nang's Tho Quang port. Vietnam has issued drastic measures on illegal, unreported and unregulated fishing. (Photo: VNS)