The Vietnamese government has invested VND$4 trillion in building infrastructure for the tourism industry, a Vietnamese tourism senior official said at a talk to promote Vietnam 's image in Germany .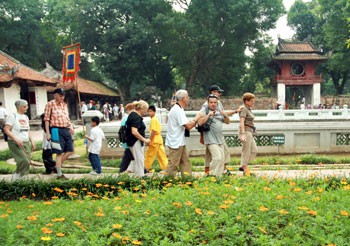 Foreign tourists visit the Literature temple in Hanoi. (Photo: La Tuan Anh)
Nguyen Manh Cuong, Deputy Chief of the Vietnam National Administration of Tourism, met with representatives of travel companies owned by Germans and Vietnamese expats in Germany on August 29 and 30.
Introducing the country's tourism potential, sightseeing wonders, and prominent tangible and intangible cultural heritages, Cuong also presented special programmes that the tourism industry launched on Hanoi 's 1,000 th founding anniversary.
He expressed his hope that tourism cooperation between German and Vietnamese travel companies would be boosted so Germany can eclipse France in terms of the number of tourists coming to Vietnam .
Present at the talks, Vietnamese Ambassador to Germany Do Hoa Binh noted that the growing ties between the two countries have provided conditions for the development of bilateral cooperation in a wide range of fields, including tourism.
He pledged to create improved conditions for German travel companies to do business with Vietnam .
For their part, many participants urged the Vietnamese tourism industry to equip more tour guides with the German language, along with professional skills and rich cultural knowledge, in order to lure more German visitors.
In 2009, the Vietnamese tourism industry contributed 5 billion USD to the State budget, generating jobs for 1.3 million people and helping to eradicate poverty