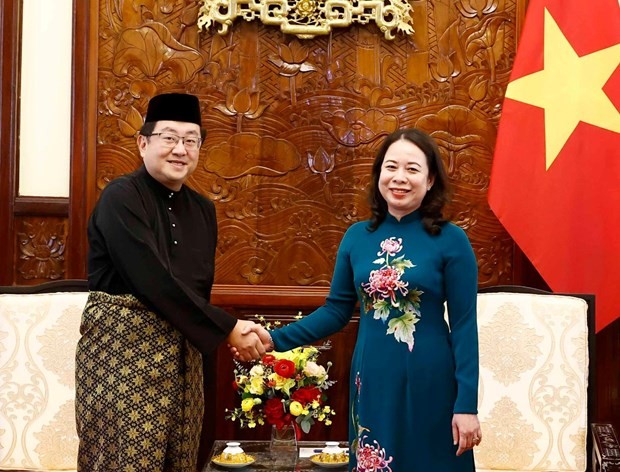 Acting President Vo Thi Anh Xuan (R) receives Malaysian Ambassador to Vietnam Dato Tan Yang Thai, who comes to present his credentials on February 22, 2023. (Photo: VNA)
In an interview granted to the Vietnam News Agency on the occasion of the 50th anniversary of the Vietnam - Malaysia diplomatic ties (March 30, 1973 - March 30, 2023), the diplomat also said the two countries entered into a strategic partnership in 2015, adding that implementing the Plan of Action (POA) for the 2021-2025 period, both countries are further strengthening bilateral relations and have reaped tremendous benefits.
Two-way trade turnover reached some US$19.4 billion in 2022, a 16 percent increase compared to 2021. Vietnam was Malaysia's 12th-largest trading partner last year and fourth-largest in ASEAN, after Singapore, Indonesia, and Thailand.
Malaysia and Vietnam should take full advantage of bilateral and multilateral initiatives to boost trade, such as the Regional Comprehensive Economic Partnership (RCEP) and the Comprehensive and Progressive Agreement for Trans-Pacific Partnership (CPTPP), the diplomat said.
Regarding investment relations, he said Vietnam remains one of the most attractive destinations for foreign investors. With a thriving economy, the volume of foreign direct investment (FDI) in Vietnam has been constantly increasing over recent years. Malaysian investors are also keen on future cooperation with Vietnamese partners in fields with substantial potentials, such as agriculture and aquaculture, halal products, processed food, and electronic products and components, which are among the fields Malaysia will be focusing on moving forward.
The sound relationship between Malaysia and Vietnam is also apparent in other fields, the ambassador added.
Malaysia is pleased that cooperation in defense and security between the two countries is advancing well, he said, emphasising that his country looks forward to the renewal of the bilateral Memorandum of Understanding on Defence Cooperation which expired in 2018. This will enable a more focused and structured framework between the two sides and strengthen the bilateral relationship and contribute to regional security and stability, he said.
Both countries are also committed to enhancing regional peace and stability through their active participation in ASEAN and other regional organizations, he added.
Malaysia, which will be Chair of ASEAN in 2025, is offering Vietnam and several other ASEAN members participation in the Malaysian Technical Cooperation Programme (MTCP). This is part of the Malaysian Government's commitment to the promotion of technical cooperation among developing countries, strengthening regional and sub-regional cooperation and nurturing collective self-reliance in developing countries.
"Since 1973, the relationship between Malaysia and Vietnam has grown stronger, and I am optimistic that it will continue to expand given the many bilateral and regional endeavours both countries are undertaking," the ambassador concluded.