A drama titled Lau dai cat (The sandy castle) will be performed by the Vietnam National Drama Theater at Ho Chi Minh City Opera House on December 17.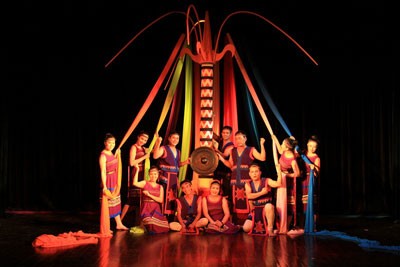 Artists of the Vietnam National Drama Theater
The play has achieved success in the northern stage during this year, with 60 perfromances drawing a total audience of more than 3,000.

Vietnam National Drama Theater in Hanoi has returned to Ho Chi Minh City after a 10-year absence.
The drama will continue to be performed at Cong Nhan (Worker) Theater from December 18-24.

In October, the Vietnam National Drama Theater won an excellent prize at the 2nd ASEAN-China Theatre and Drama Festival, which ended in Nanning, China . The theater received the award for the children stage work entitled Chuyen Chang Dung Sy (The Story of A Valiant Man) which adapted by veteran director Anh Tu from the popular epic Dam San of the E De ethnic group in the Central Highlands.