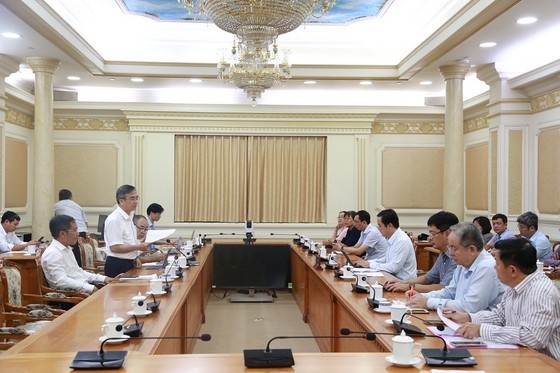 At the working session
Regarding the situation of electricity supply in the whole country, a member of the Board of Members of EVN Dinh The Phuc said that hydroelectric reservoirs have recorded the water at very low levels due to the impact of drought and dry weather.
EVN reported to the Ministry of Industry and Trade and the Government that energy sources such as coal, oil and gas turbine are decreased their capacity due to a lack of raw materials.
In addition to solutions to remove difficulties, the Government and the Ministry of Industry and Trade have directed to increase electricity savings.
Director of the Ho Chi Minh City Department of Industry and Trade Bui Ta Hoang Vu affirmed that Ho Chi Minh City is always the leading locality in the implementation of electricity saving movement under the direction of the Prime Minister, and the locality will continue to promote electricity saving with the motto "the spirit of thorough and flexible electricity saving solutions".
In order to create favorable conditions for the proof solar power and renewable energy usage in Ho Chi Minh City, especially in the context that export companies are required to have the certificate of green energy, the city required the EVN to propose authorized agencies study, remove obstacles and soon issue regulations, guidance on connecting, buying and selling electricity directly with enterprises investing in solar and wind power.