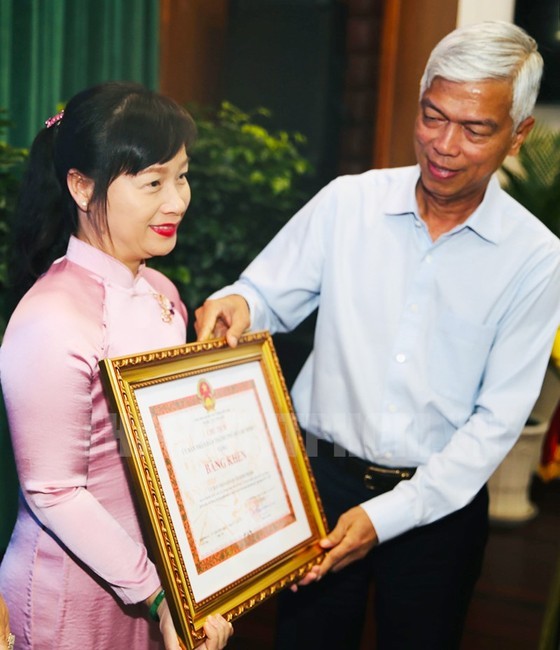 Vice Chairman of Ho Chi Minh City People's Committee Vo Van Hoan gives certificates of merit to a businesswoman
He spoke about this at a conference to review the 5-year implementation of two government projects 938 'Propaganda, education, advocacy and support for women to participate in solving some social problems from 2017 to 2027' and the Project 939 'Supporting women in starting a business in the period 2017-2025' held by the municipal People's Committee.
Speaking at the conference, Vice Chairman of Ho Chi Minh City People's Committee Vo Van Hoan assessed that women's unions at all levels have been proactive and creative in implementing projects, especially when the city was severely affected by the Covid-19 pandemic.
Vo Van Hoan suggested that the steering committees of the two projects need to develop programs for closer coordination between departments, agencies, and mass organizations with special attention to groups of disadvantaged women, and women working in industrial parks in the coming time.
In respect of activities to support women's start-ups, Mr. Vo Van Hoan suggested that it is necessary to stimulate an entrepreneurial spirit of women's members and support small businesses owned by women to grow up into businesses.
On this occasion, the Central Committee of the Vietnam Women's Union and the People's Committee of Ho Chi Minh City presented certificates of merit to collectives and individuals with outstanding achievements in the implementation of projects for the period 2017-2022.