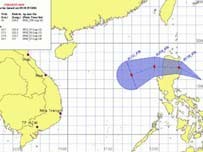 Typhoon Cimaron is heading for Viet Nam's central coast but the experts are unsure whether it will prove to be a ferocious beast or something relatively tame when it reaches these shores.

The National Center for Hydrometerological Forecasting says the storm, which is currently gusting up to 260 kph, will weaken as it passes the Philippine island of Luzon and begins moving across the Eastern Sea at 15-20 kph on Monday afternoon.

However, the center warns that Cimaron could regain its status as a category 13 storm and has issued a typhoon watch for all of Viet Nam's central coast provinces, meaning that hurricane conditions are possible in the area generally within 48 hours.

Still, national weather bureau director Bui Minh Tang believes Cimaron will not be quite as strong as Typhoon Xangsane, which devastated parts of the central coast a few weeks ago.

A milder assessment comes from Dr. Tran Tien Khanh, who runs the storm and flood forecasting website www.vnbaolut.com.

The good doctor says Cimaron will bring winds of up to 75 kph when it crosses into the Vietnamese mainland near Hoi An in Quang Nam Province in the afternoon of November 3.

Cimaron might not bear comparison with the level 12 Typhoon Xangsane that brought winds of over 133 kph, but it is still classed as a strong typhoon, he points out.

Cimaron, the 22nd typhoon in the northwestern Asia-Pacific and the seventh typhoon to hit Viet Nam this year, formed off the Philippines and was first noticed on October 26.