Vietnam Records Book Centre has recognised two records - the largest Vietnamese map made from paddies and the longest rice road - at the second Vietnam Rice Festival.
The Vietnamese map covers an area of 54 square meters, symbolizing 54 ethnic groups of the country. It was made by 60 people in seven days, with 16 kg of paddy used.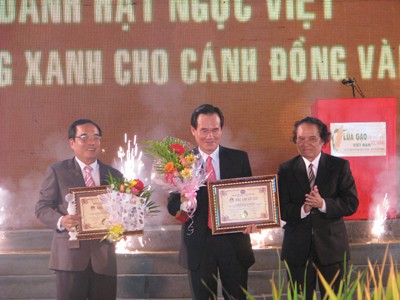 Two representatives of the Soc Trang Province People's Committee (L and C) receive Vietnam Records Book Center's certificates (Photo: Soc Trang Newspaper)
Meanwhile, the longest rice road is located on Hung Vuong Street of Soc Trang City in the Mekong province of Soc Trang. With a length of 1,200 metres, the road is lined with around 47,000 pots of paddy in different growth stages and many symbols of the Mekong Delta agriculture.
According to the organisers, 125 people were mobilized to create this unique road and take care of the paddy over the past three months.
The four-day Second Vietnam Rice Festival, which aimed to honor Vietnam's rice and farmers, wrapped up in the Mekong delta province of Soc Trang on Nov. 11.