Many accidents have occurred at hydropower plants in the central and Central Highlands regions with the latest one being a tunnel collapse at Da Dang-Da Chomo project which left 12 workers trapped inside have worsened concern over the quality of hydropower works together with their consequences.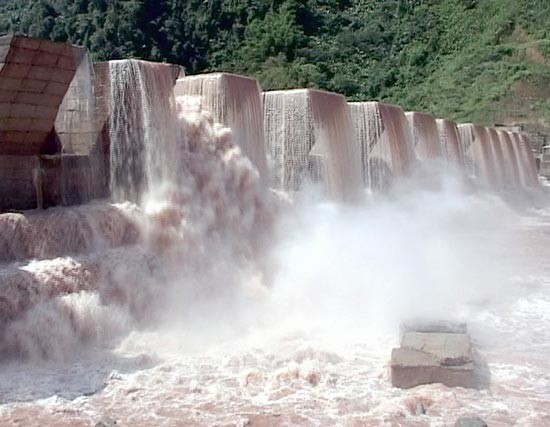 A burst dam section at Dakrong 3 Hydropower Plant unleashes floodwaters in the Central Highlands by the end of September, 2013 (Photo: SGGP)
Consecutive earthquakes recurred at the Song Tranh 2 hydropower plant reservoir in the central province of Quang Nam in 2012.

Scientists and experts have conducted surveys and studies and concluded that the earthquakes were induced by water accumulation at the plant's reservoir, and that the Song Tranh 2 hydropower plant is still safe. However it has failed to set local people's mind at rest as their properties have been damaged by the tremors.

In another uncommon case a truck collided into and collapsed a 60m long dam at Dak Mek 3 in the Central Highlands province of Kon Tum.

In the same year, a 30m dam section at Dakrong 3 hydropower plant breached in October after a medium rainfall, unleashing swift-flowing water to cause a total damage of VND20 billion (US$936,000) in the lower reaches.

Nuoc Trong hydropower plant has not been built but several cracks have been visible in the dam body since the reservoir began accumulating nearly 290 million cubic meter of water.

Most hydropower accidents have fallen in small and medium projects.

The Central Power Corporation reported that the central region has a total of over 40 hydropower plants at a capacity of below 30MW each, which have come into operation. Of these only four were built by investors from the electricity industry. The remaining number was conducted by investors from other fields.

The environmental impact assessment of these projects were disregarded or ignored. Lax management and supervision over construction process has worried people in low lying areas.

Chief of the Flood and Storm Prevention Steering Committee in Thua Thien-Hue province Phan Thanh Hung said that most hydropower projects in the central and Central Highlands regions have not built dam breach scenarios as per regulations at Decree 72.

Delegates at a forum in Hue City in October pointed out another problem that most hydropower projects in the two regions have not replanted forests in return for chopped down areas. Only few have done so with an inconsiderable area.