The Ministry of Transport will reduce the number of state own enterprises (SOEs) directly under the ministry to 22 including seven corporations and 15 subsidiaries after 2015, according to its business restructuring plan.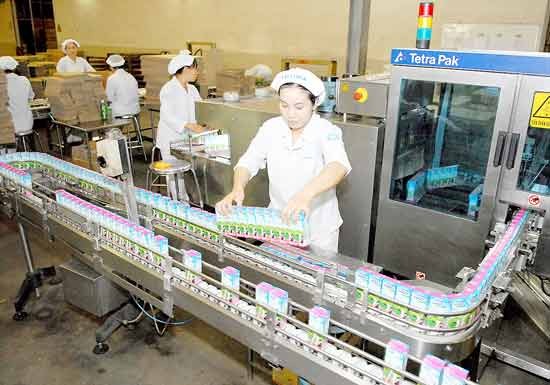 A production line at Vinamilk company (Photo: SGGP)
The ministry has equitized 70 businesses including nine corporations, 61 firms and subsidiaries by the end of this year.
In the upcoming time, it will continue stepping up equitization at five large corporations including Vietnam Railways, Vietnam National Shipping Lines, Vietnam Expressway Corporation and Shipbuilding Industry Corporation and Cuu Long Corporation for Investment, Development and Project Management of Transportation Infrastructure.
In related news, the Government has decided to sell entire state capital of ten state owned giants namely, Vietnam Dairy Products Joint Stock Company (Vinamilk) which the government holds 45.1 percent of shares, Bao Minh Insurance Corporation (BMI) 50.7 percent, Vietnam National Reinsurance Corporation (VNR) 40.4 percent, Tien Phong Plastic Joint Stock Company (NTP) 37.1 percent, Binh Minh Plastic Joint Stock Company (BMP) 38.4 percent.
Five others include Vietnam Property and Infrastructure Joint Stock Company 47.6 percent, Ha Giang Mineral Mechinics Joint Stock Company (HGM) 46.6 percent, Sa Giang Import Export Corporation (SGC) 49.9 percent, FPT Corporation (FPT) 6 percent and FPT Telecom Joint Stock Company 50.2 percent.