An earthquake with the magnitude of 3.2 on the Richter scale occurred at 11:8 p.m. last night in A Luoi district, the central province of Thua Thien-Hue, reported the Natural Disaster Prevention and Search and Rescue Center in the province this morning.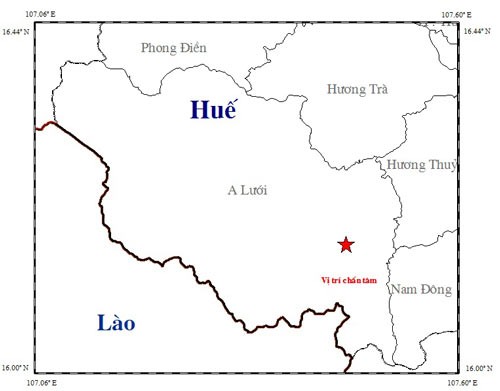 The red star is the epicenter of the earthquake occurring in A Luoi district late at night on December 25 (Photo: SGGP)
The quake's epicenter was located about 11 kilometers deep underground, the center said.
Dr. Nguyen Xuan Anh, director of the Earthquake Information and Tsunami Warning Center, said that they had recorded over 10 quakes of 2.1-4.7 magnitude since 2014 in A Luoi district and areas neighboring Huong Tra town. Most of those occurring in A Luoi have their epicenters very near each other.
Since December 6, these areas have experienced six earthquakes proving operation of a fault line there, he said.
It needs to do studies and install at least five observation stations to determine that the quakes have been caused by plate tectonics or hydropower works, according to the center.
The Earthquake Information and Tsunami Warning Center advices to remove residents from A Luoi hydropower plant's area (Photo: SGGP)
The center has proposed to evacuate residents from hydropower plant areas to ensure their safety.
Deputy Prime Minister Hoang Trung Hai has instructed the Ministry of Science and Technology to work with the Vietnam Academy of Science and Technology and relevant agencies to estimate the continuous earthquakes in A Luoi and Huong Tra.
Basing on the center's proposal, they should report to the Prime Minister and make the announcement for local authorities and residents to be rightly aware of the earthquakes, preventing them from being anxious and misunderstanding.
The academy should ask the Institute of Geophysics to continue earthquake observation in the above areas and timely provide information to related sides, Mr. Hai asked.