The steel industry has seen an oversupply of construction steel but a severe shortage of many types of steel products including those that are frequently used in support industry, causing Vietnam spend billions of US dollar on import annually.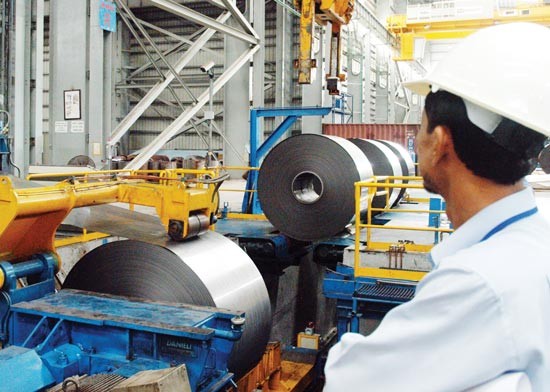 The worker at a steel plant (Photo: SGGP)
Although the country has applied safeguard tax measures, 12.6 million tons of steel was imported into the country during the first eight months this year, a year on year increase of 27.3 percent in volume and 2.1 percent in turnover.
Notably, Chinese steel accounted for over 60 percent of the import output and 56 percent of turnover. The rates were 38 and 39 percent from South Korea, Taiwan and Russia.
Some steel products saw a sudden increase in import volume compared to the same period last year, for instance steel billet increased 22 percent to approximate 100,000 tons, shape steel up 33 percent to 97,400 tons, metallic and color coated steel sheet surged 35 percent to 1.18 million tons. These commodities have been produced domestically with supply double demand.
According to businesses, although Vietnam has applied safeguard tariff measures the price of import steel especially from China is about 10 percent lower than local steel price.
This has sent many commercial companies to increase import. In addition, the ongoing development trend in Vietnam has asked for high construction demand, therefore local and foreign steel investors have aimed at broadening production in the country.
Japanese Kyoei Steel Group has set a target to hike production output to 1.2 million tons of construction steel in Vietnam by 2020, up 50 percent from last year.
The group has so far spent US$170 million on installing electric ovens and equipment at a plant in the southern province of Ba Ria-Vung Tau and contributed capital to an international seaport project in the province.
Once being built in March, 2018, the port will facilitate the group's import of scrap steel and other commodities to serve the plant. At that time, the steel production and transport capacity of the group will increase to 900,000 tons a year.
The group also plans to increase the steel output at its plant in Ninh Binh from 230,000 tons last year to 300,000 tons.
The construction steel market of Vietnam is forecast to increase by 30 percent in the next five years hitting 12 million tons by 2020. Hence not only Kyoei Steel but also local steel giants such as Hoa Phat and Ton Hoa Sen are said to broaden investment, said Dr. Tran Van Ngoc from the HCMC University of Industry.
Reports by the Heavy Industry Department show that Vietnam has just produced construction steel, not products used in support industry and manufacturing, which are all imported now approximating 13 million tons a year.
That is the main reason for the trade deficit of $7 billion a year in the steel industry.
The Vietnam Steel Association has kept reporting steel redundancy. Chairman Ho Nghia Dung said that the association now does not support businesses to invest in steel billet and long steel products because the difference between supply and demand is too big. However it encourages investors to produce hot and cold rolled steel and special alloy steel which are short and be imported.
According to Decision 2146 on industry and trade restructuring by 2020 by the Prime Minister in 2014, the government will establish large steel plants with the capacity of over 3 million tons. These plants will focus on some products that are short in domestic market such as steel sheets and products for the support industry.
The project aims to take advantage of the country's iron ore amounting to billions of tons.
Answering the press about Ca Na-Ninh Thuan steel project proposed by Hoa Sen Group, Deputy Prime Minister Trinh Dinh Dung has recently affirmed that it is necessary to re-estimate steel supply and demand in Vietnam.
Investment will be limited to products which supply have met market demand and encouraged to products that domestic businesses have yet to produce.
Projects making steel products that are abundant in local market will be eradicated, he stressed.