More than 800 Horticultural artisans from across the nation were on hand at the opening ceremonies of the Spring Flower Festival in Tao Dan Park today. The festival is one of many events taking place in HCMC over the Tet holidays.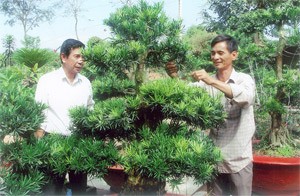 Mr. Huynh Cham(R) from Binh Duong province takes care of a 200-year-old plant
The festival features some 7,000 flowers and other plants and covers an area of more than 6 hectares.

Overlooking the festivities on an artificial hill covered with flowers, is a giant dove symbolizing peace for the nation.
This year's festival was organized by the People's Committee of Ho Chi Minh City along with the participation of many people from the gardening industry.
Mr. Tri Viet, head of Tao Dan Park's Artisan Club, said that a group of artisans from the southern province of Ben Tre have brought 130 types of orchid, as well as many ornamental plants including a pig-shaped topiary.
Meanwhile Sau Xuyen, head of the "Creatures and Ornamental Plants" club in Lam Dong province, said members of the club plan to create a special section at the festival for rare flora such as plants from colder regions like the Acer flower, the Pinus Dalatensis or the Paphiopedilum, a type of orchid.

A team from Ha Noi is displaying unusual varieties of narcissus flowers, while their counterparts from Hue are boasting a 100-year-old black orchid.
Enthusiasts from outside the country are also taking part in the event. Ornamental plants from Thailand, Taiwan, Malaysia, Singapore, and the Republic of Korea have been gathered together in a special section on Nguyen Thi Minh Khai Street.