Vietnam will reach US$7.9 billion in the value of seafood exports for 2014 due to high growth in key products.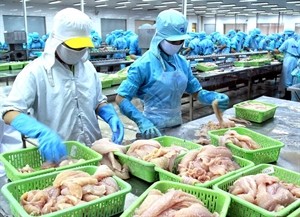 Processing exported Basa fish fillets at Binh An Seafood JSC (Photo: VNA)
General Secretary of the Vietnam Association of Seafood Exporters and Producers (VASEP) Nguyen Hoai Nam said the world market had seen a recovery, and sales of seafood products have risen more than other types of food. Meanwhile, Vietnam maintained stable and high quality seafood supplies, as the nation was estimated to gain a year-on-year increase of 18 percent in seafood export values for this year, rising to US$7.9 billion, reported vietnamplus.vn.
Also, Deputy Minister of Agriculture and Rural Development Vu Van Tam said the nation could reach its target of US$8 billion in total seafood export value for next year due to the continuing high growth in value this year.
The value of shrimp exports in 2014 was expected to reach 22 percent year-on-year, surging to US$3.8 billion, while the value of tra fish exports would be US$1.8 billion, he said.
Of note, Nam said tilapia could become a key export seafood product in the near future. Many seafood experts agreed with this opinion because, with the potential in fresh water and existing technological infrastructures of the fisheries industry, Vietnam had the ability to greatly increase the output of tilapia for export processing.
Pham Anh Tuan, Deputy Head of Fisheries Department under the Ministry of Agriculture and Rural Development, said tilapia had great appeal in foreign markets.
Over the past five years, tilapia has reached an average growth rate at 30 percent each year in the world market.
For instance, the US market imported tilapia worth US$200 million 10 years ago, while this year the import value of tilapia to the US is expected to reach US$1 billion. Meanwhile, the export price of tilapia at the market is high, at US$4.5 per kilo.
Also, China annually exports 1.1-1.5 million tonnes of tilapia.
Thus tilapia, said Nam, would be a potential export seafood product for Vietnam in the future.
Tuan added that the fisheries industry would promote the production of tilapia. Also, systems for raising tilapia along with shrimp would improve the environment, control disease and produce quality seafood products, officials noted.
Nguyen Huu Dung, VASEP deputy chairman, said many enterprises now raising tra fish and shrimp had planned investments for rearing tilapia.
Vietnam produced 80 percent of the local demand of tilapia breeding and the ministry built a centre for hatching tilapias in Quang Nam province to provide live fish for the northern provinces. In the future, the ministry would have a plan on sustainable development of tilapia to assure high growth in tilapia exports, he said.