12 workers trapped in the collapsed tunnel at Da Dang-Da Chomo Hydropower Plant have been taken out safely by rescue workers as they dug a sub-tunnel without mainstays because of anxiety to save victims as soon as possible.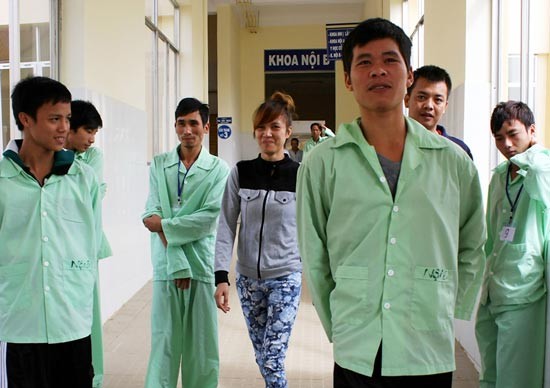 12 workers rescued from the collapsed tunnel are in stable condition at Lam Dong General Hospital (Photo: SGGP)
A day after being rescued on December 20, health conditions of 12 victims being taken care of at Lam Dong General Hospital are better. The only woman victim Dang Thi Ngoc Hong whose health was in bad condition while being rescued has recovered too. They can talk with the media about the miracle when they were freed on the previous day's afternoon.

Pham Viet Nam, 41 years old, from Nghe An province, who was the first person taken from the collapsed tunnel said that when the tunnel had collapsed, they were too frightened, embraced each other and quickly ran away to avoid the fallen debris.
Power outage left every thing in darkness. We called out names of ourselves and each other to know the number of trapped workers at that time, he said.
After taking a roll call, we tried to encourage together however some became panic and started crying for help," he said.

"After people getting stable, I reassured the others and believed that rescuers would quickly take action," 50 year old Pham Xuan Dang from Vinh Phuc province continued.

Their belief was proved true. After a couple of hours of panic in the dark cellar the first drill bit went through the debris, lightening their hope.

"Hearing voices of people from the drill hole, we shouted for encouragement to acknowledge that rescuers were trying to save us. We began discussing a plan to cope with the fear, hungry and cold, save battery from cell phones to light when necessary, and stretch raincoats to hold back water leaking from the tunnel ceiling. We used helmets for catching milk and soup from the pipe and shared each other," said 34 year old Hoang Van Anh from Nam Dinh.

"A handwritten letter by Deputy Chairman of Lam Dong province People's Committee Nguyen Van Yen transferred from the pipe was a wonderful mental remedy for us," said 38 year old Nguyen Van Quang from Ha Tinh province.

Right after the incident occurred in the morning of December 16, chairman of the province People's Committee Doan Van Viet was present at the scene and mobilized all possible human resources and instruments to rescue the workers.

The first priority was ramming a pipe through a drill hole to provide oxygen, water and food to the stuck workers. On the same day night, the first drill hole reached the position of the trapped workers. It was used for communicating with the workers also.

Afterwards a total of over 100 sappers were mobilized for the rescue mission. Deputy Prime Minister Hoang Trung Hai entered the tunnel to instruct rescue operations and permitted the sapper force to dig an additional bypass tunnel to reach the worker the afternoon of December 18. This is a breakthrough decision of the rescue mission.
Colonel Nguyen Huu Hung, deputy chief of staff of the Sapper Arm High Command, who directly instructed the rescue force at the scene, said that when the Ministry of Defense tasked the sapper arm to attend in the rescue mission, they immediately departed for the hydropower plant site and proposed to dig an additional tunnel on the left of the collapsed tunnel which was agreed by Deputy Prime Minister Hai.

At that time, a group of rescuers from the Vietnam National Coal and Mineral Industries Group were digging a bypass tunnel on the right of the collapsed tunnel.

The tunnel digging was obstructed with several stones. Besides, the terrain has been weaker after the tunnel collapse posing a lot of risks from digging the additional tunnels. Sappers, however, determined to dig the tunnel day and night in turns, he told. The sappers were the first rescuers finding out the victims.

Their work was quickly successful thanks to traditional measures combined with modern machines, he added.

Mr. Nguyen Ba Hy, director of Lam Dong General Hospital where the 12 trapped workers are treated, said that medical workers from the province and Cho Ray Hospital in Ho Chi Minh City have watched over and taken care of the workers.

Related articles:
12 workers rescued safely from collapsed tunnel
Rescuers expected to reach trapped workers in another three days
Around clock operation to rescue 12 workers in collapsed tunnel