More than 1,400 people have registered to donate organs and tissue, setting a new record in Viet Nam, at a festival entitled Joining Hands for Life, on Saturday in Ha Noi.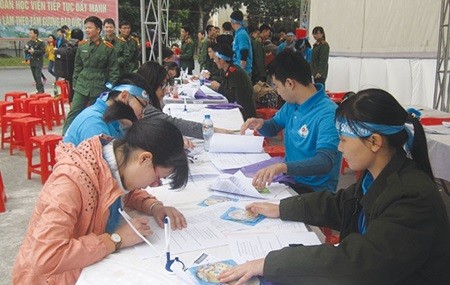 More than 1,400 people register to donate organ and tissue at a festival on Saturday in Ha Noi. The event aims to raise the community's awareness and support for organ donation and transplant in Viet Nam. (Photo: suckhoedoisong.vn)
The event was jointly organised by the health ministry's National Centre for Co-ordinating Human Organ Transplants and the Military Medical Institute with an aim of raising community awareness of organ transplantation and donation.
Centre director Trinh Hong Son said organ donation is a meaningful movement that will open more opportunities to live for thousands of patients with liver and kidney failure on donor waiting lists.
"Organ and tissue transplant cases from brain-dead people have created a sound direction and brought opportunities to live for many patients in recent years," said Son.
"However, 23 years since the first kidney transplant in Viet Nam, the number of organ and tissue transplant cases still were modest with about 1,000 kidney, over 1,000 corneas, over 30 liver and 11 heart transplants," said centre deputy director Nguyen Hoang Phuc.
Phuc said that to date more than 2,000 people have registered to donate organs and tissue in the country. This showed a dramatic change in community awareness on the issue in Viet Nam.
Pham Thi Tuyet from Hai Phong Province, who donated her kidney, said that she also registered to donate a part of her liver to save patients with organ failure, and she plans to donate other organs after her death.
"On behalf of thousands of donors, I would like to call upon society to take part in and respond to the organ donation movement to save more needy patients in the country," Tuyet said.
According to the health ministry, the country has 14 hospitals qualified to perform complicated organ and tissue transplantation procedures, including the Viet Duc, Cho Ray and Hue hospitals and Military Medical Institute.
At the Viet Duc Hospital, there are about 1,000 brain-dead cases yearly, but only 26 cases resulted in the donation of organs over the past five years.
The health ministry's statistics show that more than 7,500 patients with kidney, liver and chronic diseases and more than 300,000 blind people are waiting for donors in Viet Nam. Organ transplants are seen as a last resort for patients with organ failures.