Prime Minister Nguyen Tan Dung has asked the Ministry of Home Affairs to better its law making, with particular focus paid to the draft laws in charge of restructuring both national and local governments.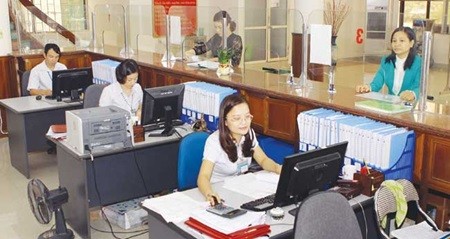 Clerks work at the accounting department of the National Treasury in the northern city of Ha Long. PM Nguyen Tan Dung has ordered the Ministry of Home Affairs to reduce the number of public servants and improve workload capacity. — VNA/VNS Photo Hoang Hung
The PM made the request in Ha Noi yesterday at the ministry's end of the year conference which will review 2014's government operations and put forth a reform plan for 2015.
He urged the ministry to speed up administrative reform and to make the renewal of administrative procedures the core task for next year. He specifically requested that efforts be intensified in the switch from outdated paperwork to information technology (IT) processes in order to save time and reduce personnel needs.
The sector was directed to maintain and eventually reduce the number of public servants, while at the same time, to improve workload capacity.
The ministry's report, delivered at the conference, showed that administrative reform has made progress this year, most notably with the use of IT in public servant examinations and management tasks.
In addition to the PM's specific requests, the ministry also promised to step up measures to prevent corruption, cut waste and practise thrift.