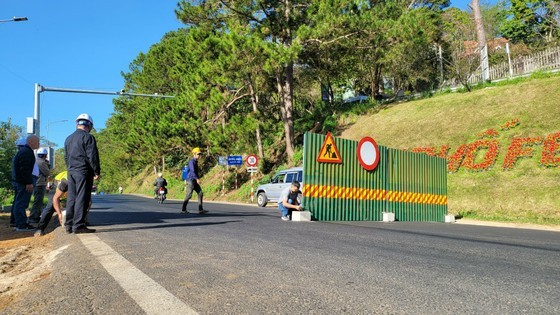 Authorities close Prenn Pass for the upgrade and expansion project. (Photo: SGGP)
At 8 a.m., the authorities set up checkpoints and put up signs prohibiting vehicles from traveling at both ends of Prenn Pass in the downward direction from Ba Thang Tu Street in Ward 3 of Da Lat City and the upward one from the foot of Prenn Pass to the center of Da Lat.
It was recorded that, on the morning of February 6, traffic police were at the two ends of Prenn and Mimosa passes to guide people and tourists to travel through other routes.
Specifically, vehicles traveling from Lien Khuong Expressway to Da Lat will go up Mimosa Pass, or from Lien Khuong Expressway, they can turn right through the tunnel and enter the highway connecting with Tuyen Lam Lake National Tourist Area (Hoa Do Quyen Street) - Hoa Phuong Tim Street - the road through the Tuyen Lam Lake National Tourist Area - Truc Lam Yen Tu Street - Trieu Viet Vuong Street (trucks are banned on this road).
Police guide vehicles to travel on other routes. (Photo: SGGP)
From Da Lat to Lien Khuong Highway or National Highway 20, Duc Trong District, vehicles can travel in the direction of Mimosa Pass or from Trieu Viet Vuong Street to Tuyen Lam Lake National Tourist Area (trucks are prohibited).
The upgrade and expansion project of Prenn Pass in Da Lat City has a total cost of over VND550 billion (US$23.33 million) and is expected to carry out in about a year.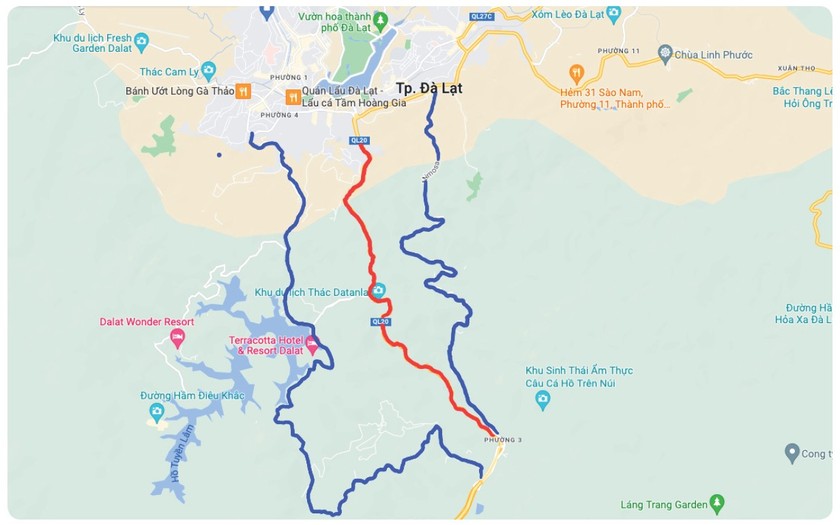 Prenn Pass (red) is closed. Vehicles can go to Da Lat by Mimosa Pass (right) or the route passing Tuyen Lam Lake (left). (Photo: SGGP)