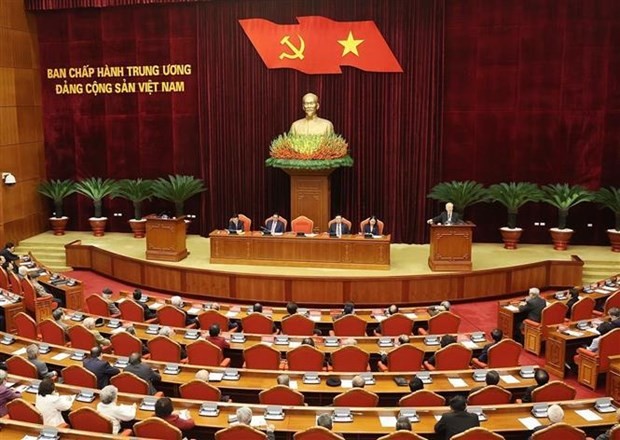 Party General Secretary Nguyen Phu Trong speaks at the event (Photo: VNA)
Participating former leaders all expressed their belief in and pride of the positive outcomes that the country has achieved in the past time.
In the hope of boosting the quality and effectiveness of the Party and State leadership in 2023 and the following years, they made recommendations and proposals mostly regarding the building of the Party and political system, external affairs, socio-economic development and anti-corruption work, among other issues.
Taking into account their comments, Party General Secretary Nguyen Phu Trong noted that last year's outstanding achievements, particularly in pandemic prevention and control, economic recovery and development, and international integration, have consolidated and increased people's trust in the Party, State and socialist regime.
Such gains were recognized by the people and international friends, offering many valuable lessons and laying an important premise for the country to successfully complete its missions in 2023 toward fast and sustainable development, he added.
He also pointed to the fact that national socioeconomic development still faces shortcomings and huge challenges.
The Party chief affirmed that the relatively comprehensive results have been obtained thanks to concerted efforts of the entire Party, people, army, and political system, especially the valuable and responsible contributions of the former leaders.
He wished that the retired officials, full of experience and enthusiasm, will continue making contributions to the nation in the time to come.