Viet Nam will work harder to stabilise the macro-economic situation and stimulate economic development, Prime Minister Nguyen Tan Dung vowed at the Viet Nam Business Forum (VBF), which opened yesterday in Ha Noi.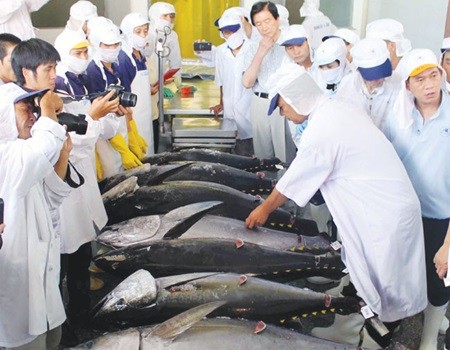 Japanese experts select qualified Vietnamese tuna to join auction sessions in Japan. Integrating into the global economy is one of major priorities that the Government will focus to improve market economy institutions, highlighted at the Viet Nam Business Forum yesterday in Ha Noi (Photo: VNS)
At the forum, Dung revealed major socio-economic tasks for next year, including keeping inflation below 5 per cent and controlling exchange and interest rates. Additionally, the State budget's overspending would be reduced from 5.3 per cent in 2014 to 5 per cent and gross domestic product (GDP) would grow from 5.9 per cent in 2014 to 6.2 per cent. The Government targeted annual GDP growth of 6.5 per cent in its five-year plan (2016-20).
To achieve these goals, the Government would continue to improve market economy institutions, he said.
Restructuring the economy, credit institutions and State-owned enterprises and integrating into the global economy would be major priorities. The development of private firms would be encouraged and favourable conditions would be created for foreign direct investment (FDI) firms.
The PM emphasised that preventing corruption was a major priority, saying the Government was focusing on reforming administrative procedures and stepping up transparency in the management of public assets, finance and budget, minerals and State-owned enterprises.
Minister of Planning and Investment Bui Quang Vinh said that the goal of GDP growth this year was achievable, given improved business conditions and lower inflation. Vinh said good results in 2014 would help Viet Nam move further next year.
New trade agreements
Next year will be an important year for Viet Nam with negotiations for many free trade agreements expected to conclude, including the EU-Viet Nam FTA, Trans-Pacific Partnership (TPP) ASEAN Economic Community and Regional Comprehensive Economic Partnership (RCEP).
However, it was still a question whether Viet Nam would be able to use these trade agreements to boost development, World Bank representative Victoria Kwakwa said.
VBF co-chair Virginia Foote said Viet Nam should pay greater attention to administrative reform to create an advantageous business climate as well as enhancing corruption fighting, two major concerns of foreign investors.
She praised the Government for paying attention to the recognition and enforcement of decisions by foreign arbiters and abolishing the ceiling on advertising spending.
The VBF was established as a project of the Viet Nam Consultative Group at a meeting between the Vietnamese Government and its donor partners in Tokyo in 1997. It is an official dialogue between the Government and the business community that aims to build a favourable business climate, attract investment and encourage economic growth.