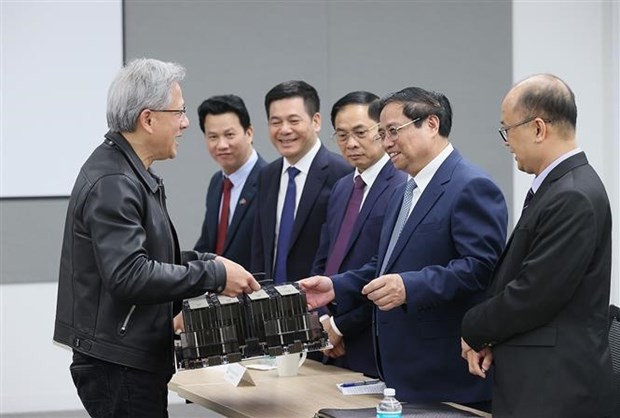 PM Pham Minh Chinh (second from right) talks to Nvidia co-founder and President Jensen Huang (left) on September 18. (Photo: VNA)
This formed part of his trip to attend the high-level week of the 78th United Nations General Assembly and bilateral activities in the US.
Visiting Nvidia – a leading semiconductor chip producer in the US, PM Chinh talked with Jensen Huang, co-founder and President of the firm, about the global artificial intelligence development trend, the considerable potential for the company's cooperation with Vietnam, and the national strategy for the semiconductor industry that Vietnam is drafting.
He asked it to further increase cooperation with and expand investment in Vietnam in the fields matching its strength and the country's priorities, provide policy advice, and assist with the training of human resources and the improvement of technological and governance capacity, thus helping Vietnam engage more deeply in global supply chains.
He also invited Nvidia to visit Vietnam at an early date, expressing his hope that it would open a factory in Vietnam and make the country its center in Southeast Asia.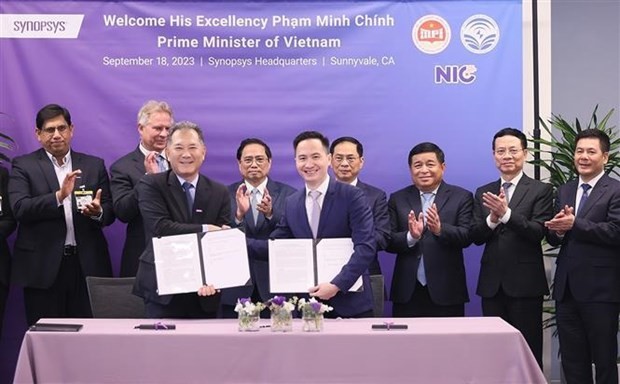 PM Pham Minh Chinh (back, third from left) and officials witness the signing of a cooperation memoranda between the Vietnamese Ministry of Information and Communications and Synopsys on September 18. (Photo: VNA)
At Synopsys – an electronic design automation company that officially joined the Vietnamese market in 2016, PM Chinh called on the firm to continue expanding its production chains and supply chains in Vietnam, which he described as objective demand.
As each country has a different development level, culture, market, and conditions, he noted that he hopes Synopsys will adapt well to conditions in Vietnam and carry out technological, management, and financial measures to help the country develop fast and sustainably.
In particular, the PM asked Synopsys to assist with developing the Vietnam National Innovation Centre (NIC); take part in training high-quality human resources, including manpower for the semiconductor industry; and continue recruiting Vietnamese people in the US.
With the viewpoint of win-win cooperation and in the spirit of harmonizing interests and sharing risks, Vietnam welcomes Synopsys and other US enterprises coming to cooperate with Vietnam for common successes, thus generating benefits for the company and both countries, he added
On this occasion, in the presence of PM Chinh and officials of the two countries, Synopsys signed two memoranda of understanding on cooperation in developing integrated circuit manpower in Vietnam and supporting the development of the semiconductor industry in the country.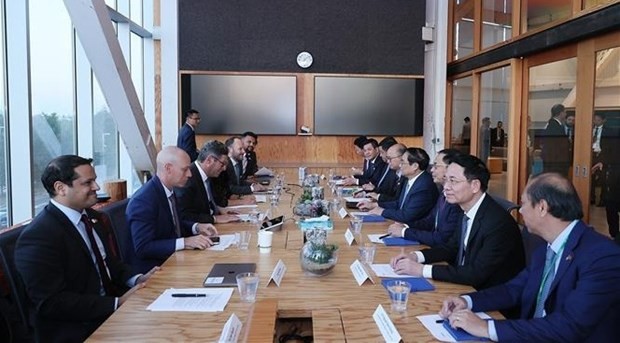 The meeting between PM Pham Minh Chinh and Joel Kaplan, Vice President for Global Public Policy at Meta, on September 18. (Photo: VNA)
Also on September 18, PM Chinh visited Meta Platforms (formerly named Facebook) – a technology multinational running Facebook, Instagram, Threads, WhatsApp, and other products and services.
Joel Kaplan, Vice President for Global Public Policy at Meta, said before the Covid-19 pandemic, his company had produced some metaverse devices in Vietnam, but the production was later disrupted by the pandemic.
Meta hopes to expand investment in Vietnam, including the continuation of making metaverse devices, in the coming years, he went on, noting that the Vietnam Government Portal has been a strategic and effective partner of his firm since the pre-pandemic period.
PM Chinh held that the future of Vietnam - US comprehensive strategic partnership depends much on their enterprises' capacity to capitalize on investment and business potential and opportunities in priority fields.
On the basis of the two countries' sound political ties, he voiced his belief that cooperation with Meta will become increasingly fruitful and substantive, especially in such key areas as digital economy, artificial intelligence, digital content, innovation, and digital transformation in enterprises.
The Government leader called on Meta to supply more technological solutions and transfer more technologies to Vietnam; boost financial cooperation to develop science-technology, innovation, and digital transformation; work with Vietnam to improve the country's governance capacity in the aspects Meta is strong at, and cooperate in preventing cyber-crimes, protecting cyber safety and security, and providing positive and accurate information about the two countries' relations.
He also applauded Meta's enhancement of collaboration with NIC as well as Vietnamese agencies and businesses in the win-win spirit to benefit both countries and bilateral ties.