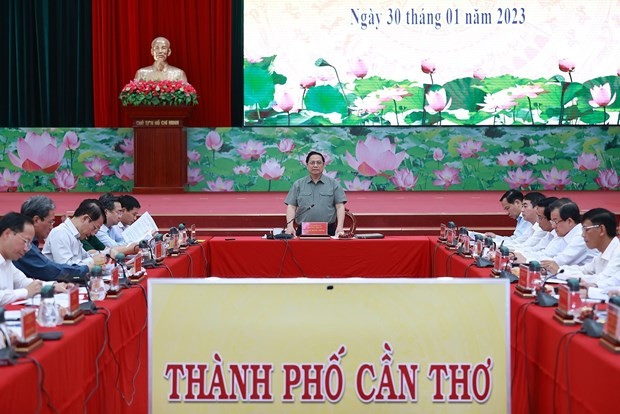 PM Pham Minh Chinh speaks at the working session in Can Tho city on January 30. (Photo: VNA)
The working session followed his fact-finding tour of some key transport projects after the Lunar New Year holiday.
PM Chinh said the Mekong Delta, comprising 12 provinces and one city, holds a critically important role, and boasts huge potential, but is also the region most vulnerable to climate change in Vietnam.
Breakthroughs in transport infrastructure and human resources will help this region develop more strongly in the coming time, he went on, noting that promoting transport infrastructure projects will also help accelerate public investment disbursement, one of the driving forces for national socio-economic recovery and development.
According to the PM-approved road network planning for 2021 - 2030, with a vision to 2050, the Mekong Delta will have six expressways with a total length of 1,166km. Some projects are underway and about 554km of expressways are expected to be completed by 2026, while the rest will be built between 2026 and 2030.
The PM affirmed that developing transport infrastructure, especially expressways, in the Mekong Delta is an objective requirement, so actions must be taken without hesitation to obtain observable and measurable results.
He demanded consensus, strong determination, great efforts, and drastic and effective actions, adding the sooner expressways are opened, the sooner the Mekong Delta can benefit from them.
Applauding ministries, sectors, and localities' performance, the Government leader asked them to coordinate more closely in developing transport facilities, particularly expressways, in the region.
They need to quickly finish procedures in the first half of 2023 so as to start the remaining projects soon, PM Chinh said.