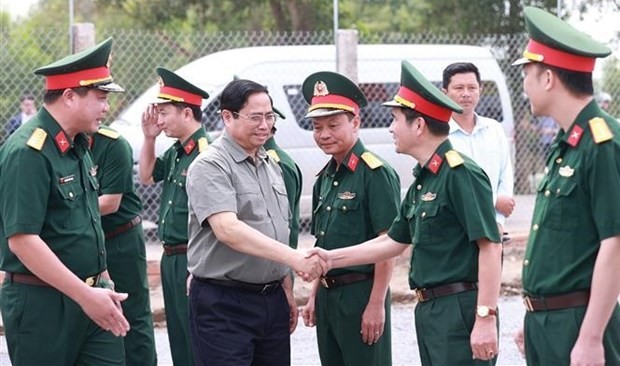 PM Pham Minh Chinh visits Army Corps 12 under Truong Son Construction Corporation that is constructing a section of the eastern North-South Expressway that runs through Can Tho and Hau Giang. (Photo: VNA)
Visiting a construction site of My Thuan 2 Bridge that crosses the Tien River and connects the Trung Luong-My Thuan and My Thuan-Can Tho expressways between HCMC and Can Tho, he asked constructors to speed up work, ensure the quality of the construction, labor safety and pay proper care to workers' living conditions.
With a total investment of over VND5 trillion (US$213.22 million), the construction of the 6.61-km bridge was started in March 2020 and is expected to complete this year. By now, more than 70 percent of the work has been completed.
The leader added localities must proactively build intersections, organize traffic routes connecting to the bridge and the expressways to exploit new development space.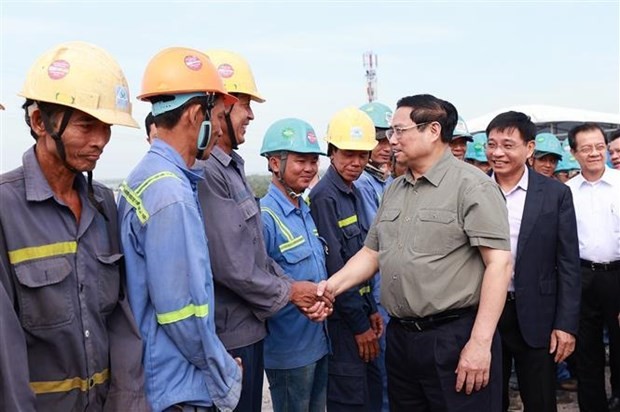 Prime Minister Pham Minh Chinh on January 30 meets and extends Lunar New Year (Tet) greetings to workers at the construction site of My Thuan 2 Bridge. (Photo: VNA)
At the construction site of a section of the eastern North-South Expressway that runs through Can Tho and Hau Giang, Chinh applauded workers for their efforts in their through the Lunar New Year (Tet) festival.
For more efficient infrastructure development, the PM ordered that ministries, branches, and localities actively coordinate in site clearance work, and consider inland waterway transport development as well as human resources training to prepare for a new period when infrastructure is invested.
Improved infrastructure will help reduce transport costs and increase the competitiveness of goods and services in the Mekong Delta, contributing to the socio-economic development of the region and the whole country, Chinh said.
On the same day, PM Chinh visited the resettlement area in Cai Rang district, Can Tho city. The 10.8-ha area is now home to households who moved to make room for the construction of the Can Tho - Ca Mau expressway that belongs to the eastern North-South expressway project.
He asked local authorities to ensure proper livelihood and living conditions for the residents in the resettlement area.