An inauguration ceremony of Phat Tich Truc Lam Ban Gioc pagoda was held in Trung Khanh District's Dam Thuy Commune in the northern border province of Cao Bang on December 15 by the provincial People's Committee and the Vietnam Buddhist Sangha (VBS).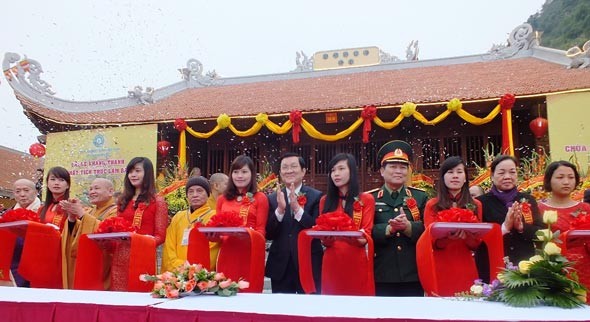 State President Truong Tan Sang, leaders of ministries and Vietnam Buddhist Sangha cut ribbons in the inauguration of the pagoda. (Photo: Sggp)
State President Truong Tan Sang; Ha Thi Khiet, Party Central Committee Secretary and head of the Party Commission for Mass Mobilization; Minister of Health, Nguyen Thi Kim Tien; Minister of Information and Communications, Nguyen Bac Son; and leaders of the Ministry of Defense, the Ministry of Public Security and the Ministry of Culture, Sport and Tourism attended the event.
Senior Venerable Thich Thanh Dung, vice secretary of the VBS Standing Committee; Most Venerable Thich Thanh Nhieu, President of Executive Council of the VBS and thousands of Buddhists also joined the ceremony.
The Construction of the Phat Tich Truc Lam Ban Gioc pagoda covering an area of 2 hectares on the side of Phia Nham mountain, overlooking the Ban Gioc waterfall was built in June 2013, costing around 18 billion VND (857,000 USD)
On the occasion, State President Truong Tan Sang attended an inauguration ceremony for the Sai Gon-Ban Gioc resort which was invested by Saigon Tourist Company.

The grandiose and beautiful Ban Gioc Falls is one of the many tourist destinations in Cao Bang Province, including Thang Hen Lake, Pha Den Biodiversity site and Nguom Ngao cave.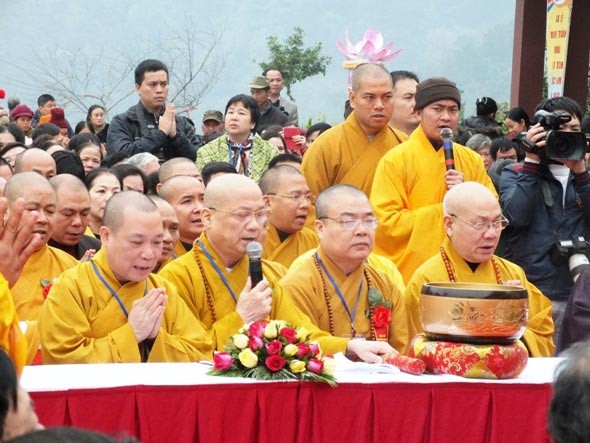 A praying ceremony at the event (Photo: Sggp)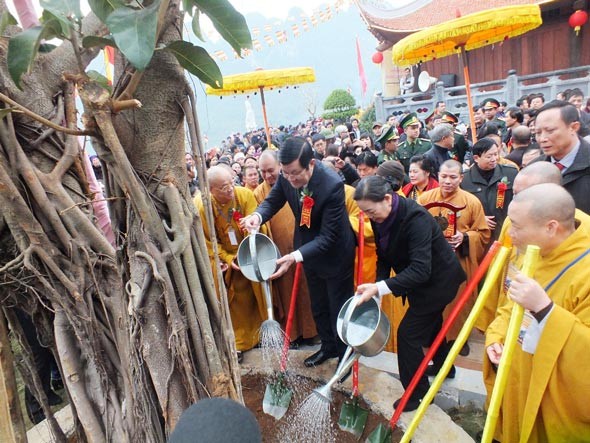 State President Truong Tan Sang plants tree in the inauguration ceremon. (Photo: Sggp)