Party General Secretary Nguyen Phu Trong has urged the Academy of Politics to step up scientific research and international cooperation to meet renewal requirements.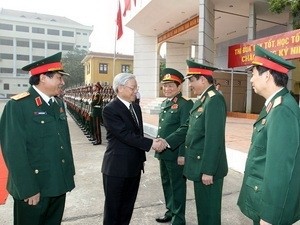 Party General Secretary Nguyen Phu Trong (2nd, L) talks with lecturers of the Academy of Politics
At a meeting with lecturers and students of the Academy on the occasion of its 60 th founding anniversary in Hanoi on Oct. 22, the Party leader asked the academy to pay more attention to improving the quality of scientific research programmes to make it a prestigious unit in this field. Trong said that the academy needs to effectively implement the Resolution of the 11 th National Congress and speed up the "study and follow moral example of President Ho Chi Minh" movement. After 60 years of construction and development, the Academy of Politics , a subsidiary of the Ministry of National Defence, has now become the country's leading scientific training and research centre of the army and the nation. It has trained tens of thousands of political cadres, along with lecturers and researchers in the fields of social sciences and humanities for organisations, schools and research centres in and outside the army./.