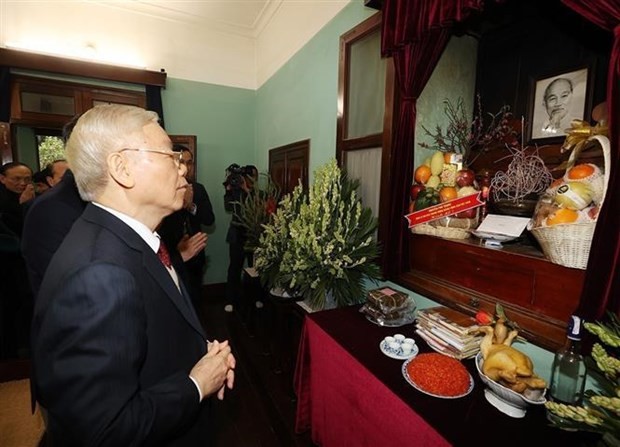 Party General Secretary Nguyen Phu Trong offers incense in tribute to late President Ho Chi Minh. (Photo: VNA)
House 67, where President Ho Chi Minh breathed his last, still keeps many remembrances associated with his life and career.
The Party chief expressed his deep gratitude to the beloved President for devoting his whole life to national independence and freedom as well as the people's happiness.
Meeting with the relic site's staff, the Party leader praised their efforts to well perform their assigned tasks, while asking them to continue introducing the life and revolutionary career of President Ho Chi Minh to both domestic and foreign visitors.
He expressed his wish that the relic site's staff members will have a new year full of happiness and health.
The Party leader presented the book "Ho Chi Minh and "Nhat Ky Trong Tu" (Prison Diary), which was published in 2022 on the occasion of 80 years since the President wrote the work (August 1942 - 2022) and 35 years since UNESCO issued Resolution 24C/18.65, which honors President Ho Chi Minh as a Hero of National Liberation and a Great Man of Culture of Vietnam (November 1987 - 2022).
House 67 in the Presidential Palace is where President Ho Chi Minh lived, worked and passed away. It provides a venue for the Political Bureau's meetings during the fiercest years of the Vietnam war.