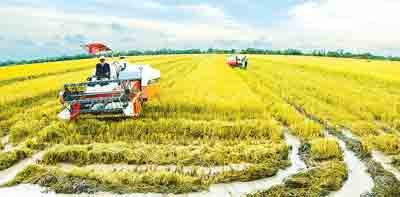 Mekong Delta farmers use combines on larger paddy fields (Photo: SGGP)
The Ministry of Agriculture and Rural Development convened an online meeting to discuss adoption of a new model plan in North Vietnam to cultivate larger paddy fields similar to those in the Mekong Delta Provinces.
Larger paddy fields have proved to be more cost effective than smaller fields, raking in higher profits and increased productivity. The North will adopt a model plan for the upcoming winter-spring crop.
The ministry also discussed targets for the winter-spring crops at the online meeting. Nguyen Tri Ngoc, head of the Department of Crop Cultivation under the Ministry of Agriculture and Rural Development, said the North will sow 1,145 hectares of the winter-spring rice crop and hopes to increase average productivity to 61.5 quintals per hectare.
Accordingly, it hopes to yield a total of 7 million tons of unhusked rice to meet domestic and export targets.