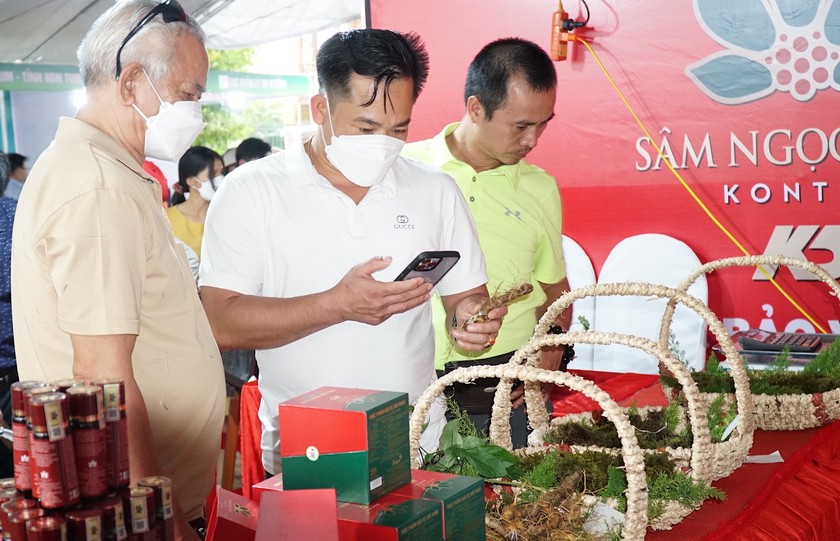 Customers find out information of Ngoc Linh ginseng at a fair
After Ngoc Linh ginseng (Panax Vietnamensis or Vietnamese ginseng) in the Central Highlands Province of Kon Tum's Tu Mo Rong District fell ill and died, people were immediately provided with seedlings and instructions on new planting techniques.
Tu Mo Rong upland District, where the Ngoc Linh ginseng was first discovered, is the Ngoc Linh ginseng cultivation basket with an area of about 1,200 hectares.
The herbal plant is identified as the one helping local inhabitants out of poverty because many households have seen their income increase from growing and selling ginseng, even some growers getting rich.
However, in March 2022, Ngoc Linh ginseng suddenly fell ill and died. Scientists and agriculturalists jumped into studies by taking samples to find the cause of the disease to prevent it. Thanks to their concerted efforts, after about three months, no more ginseng plants died. Currently, people are trying to reinvest in ginseng gardens with the local government's full support.
Residents in Mang Ri Commune in Tu Mo Rong District, which was once the revolutionary base of the Kon Tum Provincial Party Committee, are busy taking care of the newly planted ginseng garden. Resident A Chung in Long Hi 2 village in Mang Ri Commune said that in March, his ginseng garden had 100 dead ginseng plants.
So worried about where to get money to buy seeds for reinvestment that he nearly fell ill, but the district distributed 48 seedlings free of charge to the family in October.
He immediately replanted seedlings in the family's garden. Moreover, agriculturalists came to his house to instruct how to grow and take care of the herb. He is delighted with the support, hoping that the ginseng seedlings will help the family get out of poverty.
Similarly, resident A Thuat in Mang Ri Commune felt elated at receiving five ginseng plants from the local government. He said that when the ginseng plants grow up, he will collect the fruit and then incubate it and multiply it.
Mr. Nguyen Minh Tri, Vice Chairman of Mang Ri Commune People's Committee, said that 532 households in the commune all grow ginseng. To support ginseng growers, the bank is coordinating with the commune to do a charge-off.
In addition, 126 poor households and social policy beneficiaries whose ginseng plants were dead will be given 5,985 ginseng seedlings for re-planting. Locals are very excited because they are given the opportunity to grow ginseng again.
Huynh Tan Kiet, a land-agriculture officer in Dak Ha Commune, was seen running to the forest to give guidance on taking care of ginseng. He went to the ginseng gardens where the one-year-old ginseng plants under the canopy of an ancient forest in October have now grown green.
Mr. Kiet went to the ginseng bed of Mr. A Nang to tell the old grower ginseng care techniques and measures to protect the plants from pests.
Mr. A Nang disclosed that he really wanted to grow ginseng but didn't have money to buy seeds. Last October, the government gave him 25 ginseng seedlings. The old man believed that his ginseng would grow well under agriculturalists' guidance and assistance to help his family escape poverty.
According to Mr. Vo Trung Manh, Chairman of the People's Committee of Tu Mo Rong District, the district has petitioned the provincial People's Committee to ask ginseng growing companies to give free ginseng varieties to local inhabitants.
Correspondingly, Ngoc Linh Kon Tum ginseng production plant, a major hi-tech processing factory combined with a seed and research center has given 10,000 seedlings worth VND3 billion to local dwellers in the district. These ginseng seedlings are given to poor households, social policy beneficiaries that have dead ginseng as well as poor households that grow ginseng for the first time. In the near future, the district will continue to call for the support of seedlings from companies to provide ginseng varieties for locals to develop their own ginseng gardens.
The district agriculture sector will send staff who will offer technical assistance to owners of these newly planted ginseng gardens as well as closely monitor the growth and development. In October 2022, the People's Committee of Dak Ha Commune received 663 ginseng seedlings from the District People's Committee distributing them to 21 poor households.
According to the Kon Tum Provincial Forest Protection Department, to ensure the survival rate of ginseng seedlings, the Department recently issued the cultivation file of Ngoc Linh ginseng for districts to popularize it. In addition, staff of the Kon Tum Provincial Forest Protection Department also directly went to Tu Mo Rong District to talk about techniques of care and prevention of pests and diseases in Ngoc Linh ginseng.