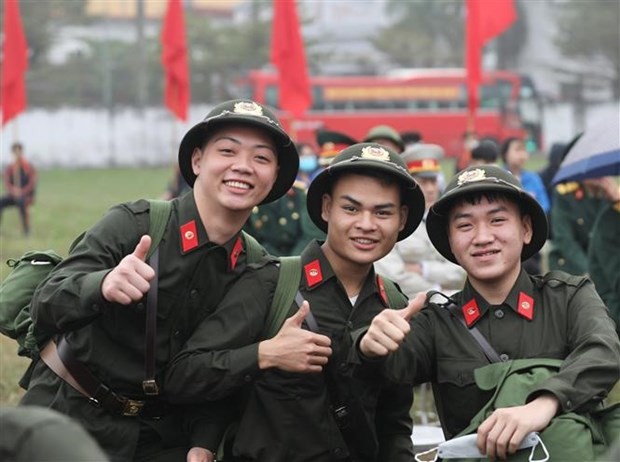 Young people depart for military service in Hanoi. (Photo: VNA)
Speaking at a ceremony at Quan Ngua Stadium in Ba Dinh district, Secretary of the municipal Party Committee Dinh Tien Dung expressed his wish that the fresh recruits will become outstanding officers and soldiers, and his belief that each of them will strive in training.
Vu Anh Dung from Giang Vo ward said he is proud to join the military, and promised to well perform in the military.
Present at a ceremony in Dong Anh district, Chairman of the municipal People's Committee Tran Sy Thanh affirmed that fulfilling military duty is both the responsibility and the pride of youngsters.
He urged them to carry forward traditions, to be absolutely loyal to the Fatherland, the Party, the State and the people, and to overcome difficulties in order to fulfill their tasks.
Standing Deputy Secretary of the municipal Party Committee Nguyen Thi Tuyen also attended a ceremony in Bac Tu Liem district.
Similar ceremonies were organized in the nine cities and provinces of the Military Region 3, namely Quang Ninh, Hai Phong, Hai Duong, Hung Yen, Thai Binh, Nam Dinh, Ha Nam, Hoa Binh and Ninh Binh.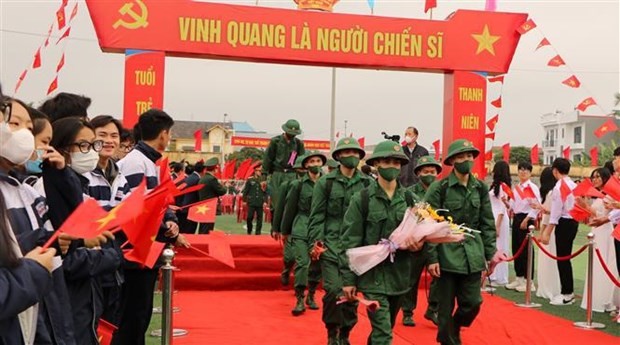 At a ceremony in Hai Phong (Photo: VNA)
Earlier, the localities provided material and spiritual support for the new recruits, encouraging them to fulfill the duty.
Young people in the six localities in the Military Region 1, comprising Thai Nguyen, Bac Kan, Cao Bang, Lang Son, Bac Giang and Bac Ninh, set off for the service the same day.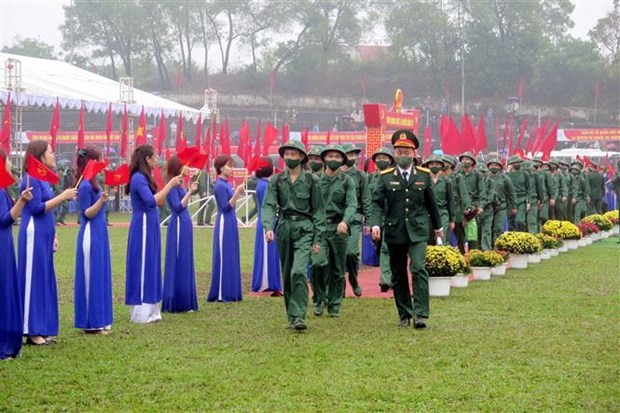 At a ceremony in Thai Nguyen (Photo: VNA)
The new recruits included those belonging to ethnic minority groups like Mong, Cao Lan, San Chi and San Diu. More than 2,100 registered for the service voluntarily.
In Thai Nguyen province alone, ethnic minority men made up 40.2 percent of the new recruits and the number of volunteers accounted for 16.9 percent.