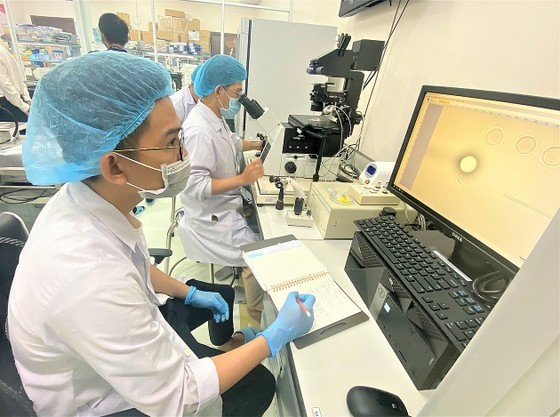 Students are studying
In the academic year 2023-2024, higher education institutions will start to increase tuition fees according to the roadmap specified in Decree 81/2021/ND-CP of the Government on the mechanism of collection and management of tuition fees for educational institutions under the national education system and the policy of tuition fee exemption and reduction and support for study expenses in the education and training sector (or the Decree 81).
Accordingly, the new tuition rate of many public schools, especially the new self-governing schools, will be adjusted even many will set them even double.
Tuition fees for all majors have increased
The Decree 81 clearly states that tuition fees for the 2021-2022 school year at all levels will not exceed the ceiling of the 2020-2021 school year, but from the 2021-2022 school year onwards, the new tuition fees will apply according to the Decree 81. Although the new tuition fee adjustment is effective from October 2021, the Government required schools not to apply for the school year 2021-2022 due to the impact of the Covid-19 epidemic. However, schools will start to increase tuition fees for the academic year 2023-2024.
According to regulations, at the higher education level, the tuition fee ceiling for mass training programs at public higher educational institutions is not yet applied according to the training disciplines and majors.
Specifically, students of science, education and teacher training will have tuition fees of VND14.1 million a year, an increase of VND4.3 million compared to the school year 2021-2022 while their peers of art major will pay VND13.5 million a year increasing VND1.8 million and learners of business and management, and legal sectors pay VND14.1 million a year increasing by VND4.3 million.
Universities offering life sciences and natural sciences majors charge VND15.2 million a year as tuition fee, an increase of VND3.5 million while other educational establishments of mathematics and statistics, computer and IT, and technical technology have a tuition fee of VND16.4 million a year increasing by VND4.7 million. Students of medical and pharmaceutical majors have the highest tuition fee of VND27.6 million a year up to VND13.3 million.
Thus, the tuition fee level of non-autonomous higher education institutions increased from VND 1.8 million - VND13.3 million a year.
Self-financing public higher education institutions have higher tuition fee levels ranging from VND28.2 million-VND55.2 million a year. For public higher education institutions that self-finance their recurrent and investment expenditures, the tuition fee levels are ranging from VND70.5 million-VND138 million a year).
Meanwhile, the tuition ceiling for master's and doctoral training in public higher education institutions is determined to be 1.5-2.5 times higher than university tuition fees. Schools offering programs satisfying the quality accreditation standards determine the tuition fees themselves.
Tuition fee increase of 10 percent-30 percent
According to the report on the tuition adjustment plan for the school year 2023-2024 of the Ministry of Education and Training, it is expected that local people's councils will approve the tuition fees of high schools for the new school year in early July.
Universities and colleges must announce tuition rates and notify candidates before applying for admission. Deputy Prime Minister Tran Hong Ha also agreed with the university's plan to increase tuition fees from the school year 2023-2024 according to the Decree No. 81, while local administration will decide on tuition fees for high schools.
Specifically, according to the Foreign Trade University's plan, the tuition fee for the mass program will be VND25 million for each student a year while the high-quality program tuition fee will be VND45 million a year and the advanced program will be VND70 million a year.
In general, tuition fees of the Foreign Trade University in the academic year 2023-2024 increased by VND5 million-VND10 million compared to the previous school year. The Academy of Finance will set the tuition fee ranging from VND22 million-VND24 million a year for standard training majors while it will be VND48 million-VND50 million for high-quality programs each year.
The Academy of Journalism and Propaganda also plans to raise the tuition fee for the mass system from more than VND440,000 to more than VND500,000 a credit with the new enrollment course; however, a student of high-quality program has to pay nearly VND1.5 million a credit whereas the old rate was VND1.3 million a credit.
Tuition fees at many major universities in Ho Chi Minh City such as member schools of Vietnam National University in Ho Chi Minh City, Pham Ngoc Thach Medical University, University of Medicine and Pharmacy, Ho Chi Minh City University of Industry, Ho Chi Minh City University of Law, increase at least from 10 percent -30 percent compared to the previous school year.